Merlin Plunges as Rollercoaster Crash Causes Profit Slump
Paul Jarvis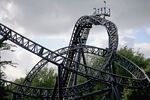 Merlin Entertainments Plc shares had a record decline after a rollercoaster crash at one of its theme parks owner led it to slash its profit forecast for the year.
The stock dropped as much as 8.9 percent, the steepest intraday drop since the company's 2013 initial public offering.
Merlin closed the Alton Towers park in central England for six days after the June 2 accident on the Smiler rollercoaster, and also suspended marketing and shut rides at other U.K. theme parks. At least four people sustained serious injuries in the accident, for which Merlin has accepted responsibility.
"As a result of the material loss of momentum, trading at the park and, to a lesser extent, the broader U.K. resort theme-parks estate has been adversely impacted," Poole, England-based Merlin said in a statement Monday.
The company forecast full-year earnings before interest, tax, depreciation and amortization of 40 million pounds ($62 million) to 50 million pounds for its theme park unit, down from the previous year's 87 million pounds. The operator of the Legoland and Thorpe Park attractions also warned that there may be "some continued adverse impact" on theme-park profitability in 2016.
Providing an early indication of its first-half results due to be released July 30, Merlin said pretax profit rose 24 percent to 49 million pounds in the 26 weeks ended June 27, boosted by better-than-expected financing costs. Revenue rose 6.1 percent to 544 million pounds.
Read this next:
Merlin shares were down 3.9 percent at 406.6 pence as of 1:48 p.m. in London, paring earlier losses. That reduced the company's market value to about 4.1 billion pounds.