Wall Street Cranks Up Its Outlook for Amazon After It Delivers Blowout Earnings Report
Wall Street was blown away
By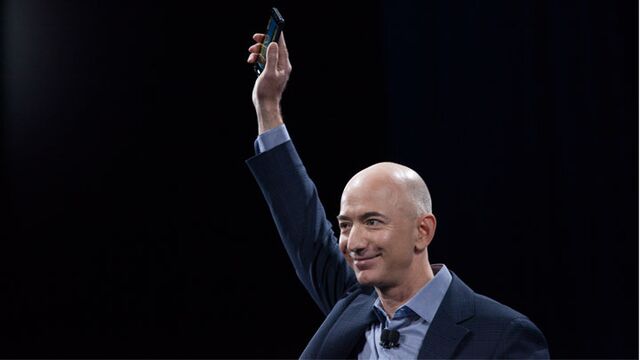 After the market closed yesterday, Amazon.com Inc. reported a surprise second-quarter profit, with sales that blew past analyst estimates. The street had been projecting a loss of 14 cents a share. Amazon reported a profit of 19 cents instead. 
Shares soared as much as 19 percent in after-hours trading, and Wall Street has upped its targets for the company. As of last week Friday, analysts surveyed by Bloomberg had an average price target of $480 with 32 analysts rating the firm a buy, 16 hold and 1 sell. As of early this morning in New York, the price target has risen to $560 and there are 37 buy ratings, 10 holds and 1 sell. Amazon closed yesterday at $482.18. 
Here is a more in depth roundup of what a number of the analysts covering the stock are saying.
Cowen and Company's John Blackledge (raised price target to $700 from $565)
AMZN reported a break-out qtr with revs beating the high-end of guidance and 2% above our est. driven by accelerating EGM and AWS topline growth, while margins shined with GM's 90bps and adj. op inc. 200bps above forecast. 3Q15 revenue and adj. op. inc. crushed our and street pre-print estimates. Raising '15-'20 forecast, Price Target to $700 from $565, Reiterate Outperform.
Bank of America Merrill Lynch's Justin Post (increased price target to $620 from $535)
Maintain Buy, Top 2H Idea. Results reinforce our 2H thesis, with the hardest part post call pegging the right valuation range for the stock. We continue to expect: 1) Prime traction to drive strong N. America EGM rev. into the holidays; 2) AWS [Amazon Web Services...cloud computing] revenue strength to drive potentially higher multiples; 3) potential margin upside from AWS, 3P mix and fulfillment efficiency. Given acceleration of EGM and AWS, we expect street valuation multiples to go higher for both businesses.
CLSA's James Lee (raised price target to $650 from $500)
Amazon crushed profit expectations due to AWS and Marketplaces. Consistent with last quarter, operating income guidance for 3Q15 indicated a strong top line and margin expansion for AWS in addition to positive expectations for Prime Day. Digital investments are still a concern, but were offset by AWS profitability. We raise our target to $650 from $500 and maintain O-PF as we are raising our Ebitda forecast by 26% due to AWS and third-party services. We still see room for more upside from cross-border trades (CBT) into China and opportunities for the advertising business for small/medium businesses (SMBs).
Wells Fargo's Matt Nemer (price target range raised to $533.00-$559.00 from $495.00-$520.00)
We think Amazon is well positioned for share gains with the best customer experience in retail (lowest prices, best selection, best service) and substantial structural cost advantages.
Credit Suisse's Stephen Ju (price target raised to $700 from $480)
..we believe AMZN will continue to reap margin benefits from fulfillment center maturation and shipping fee savings from its expanded footprint we reiterate that while investor focus continues to center on AWS reacceleration and strength in EGM, we would instead refocus on Amazon's expanding core retail gross profit on the ongoing benefits of FC maturation and growth of Prime membership. 
Goldman Sachs' Heath Terry (price target to $650 from $570)
We believe this quarter is further evidence that Amazon's investment in infrastructure, logistics, and web services is accelerating market share gains, cash flow growth, and continued high returns on invested capital. Therefore, we remain Buy-rated..
Wedbush's Michael Pachter (price target to $700 from $575)
Unexpected profits well above the high end of guidance and consensus clearly reflect the tremendous leverage in Amazon's model.
Barclays' Paul Vogel (upgrades to overweight and raised price target to $700 from $412)
Upgrade to OW: We normally shy away from ratings changes on quarters as we tend to wait for the stock to settle after a big move and then re-evaluate. This quarter was too good in our view to wait and, despite the sizable move in the stock already this year (and aftermarket), we now believe there is even more upside.