Trump Says He's 'Big Believer' in Merit-Based Immigration System
The Republican candidate says the U.S. could "work something out" for "outstanding" immigrants who live in the U.S. without documentation.
By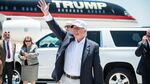 Donald Trump, the Republican presidential candidate who has taken a hard stance opposing illegal immigration, suggested he'd support leniency for some of the estimated 11 million people living in the U.S. without authorization.
"I'm a very big believer in merit system," Trump said on MSNBC's Morning Joe Friday. "Some of these people have been here, they've done a good job. You know, in some cases, sadly they've been living under the shadows."
The real estate mogul said securing the border and getting "the bad ones" out of the country permanently should be the priority, but that after that, deportation of all 11 million might not be his goal.
"If somebody's been outstanding, we try and work something out," he said.
He did not say whether he would support a path to citizenship, which many Republicans oppose as "amnesty."