This Is What Bridgewater Said About China's Stock Market
"We did not properly anticipate the rate of acceleration in the bubble ..."
By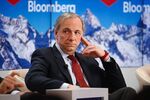 Despite the roller-coaster ride that has been Chinese stocks in recent months, Bridgewater Associates, one of the world's largest hedge funds, had remained bullish on China's market and economy. But that appeared to change this week. In a new note released to clients on Tuesday, the hedge fund founded by Ray Dalio appeared to change its view, noting a number of growing concerns in the world's second-biggest economy.