The World's Third-Biggest Platinum Miner Just Announced That It's Cutting Production
By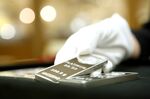 The platinum industry is seeing the first big mine closings in two years, and it may be just the beginning.
Lonmin Plc, the third-biggest miner of the precious metal, said Friday that it will reduce annual output by 100,000 ounces over the next two years and eliminate as many as 6,000 jobs. Other producers will have to do the same to bring a turnaround in prices, which sank to a six-year low last week, according to Wayne McCurrie, who helps manage $8 billion at Momentum Holdings Ltd. in Pretoria, South Africa.
"The others will do exactly the same as Lonmin did," McCurrie said. "They've got to cut out the unprofitable production that's not making money. If everyone caps production, the excess will eventually disappear."

Platinum has been in a bear market for two years, and South African producers, the world's biggest, are losing money on three out of every four ounces they mine. Prices have plunged 19 percent this year on a glut of metal from stockpiles and recycled material.

Low prices may drive Lonmin to cut further output, Investec Plc said in an e-mailed note to clients.
"The tough market conditions are clearly prompting the company to accelerate restructuring to cope with the tough market," Investec said. "We question whether enough is being done, and if more action is required."