Marco Rubio Has a New Answer for His Inexperience Problem
The presidential candidate seems to be testing a new campaign theme.
By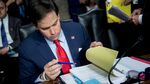 Has Marco Rubio hit on a way to turn two political minuses into a plus? 
The 44-year-old first-term senator is competing for the Republican presidential nomination against a crowded field that includes eight governors or former governors and several more experienced lawmakers. He has also been dogged by questions about his acumen when it comes to his personal finances. In recent days he has come up with an argument that seemingly attempts to handle both potential problems.
At a forum last weekend in Ames, Iowa, Republican pollster Frank Luntz told Rubio that "the single biggest knock on you" is that "you haven't been around long enough." In response, the son of Cuban immigrants from humble beginnings cleverly morphed job "experience" into life "experience," arguing that his makes him the most qualified to understand issues facing ordinary Americans.
"I don't think anybody running for president understands what life is like for people today more than I do," Rubio said, adding that his parents lived "paycheck to paycheck" and that he had student loans until four years ago. His youth and his financial struggles have given him more of kind of experience a president needs, he argued.
"No one running has more experience on the issues we face right now, today, in the 21st century, with a world that's more dangerous than ever and an economy that's changing faster than we've ever seen since the industrial revolution."
The crowd applauded.
Thursday, in another interview, Rubio trotted out a different version of the same line.
"The world is changing, and no one who is running for president has more experience than I do on the issues confronting our country right now," the freshman Florida senator told Fox News in an interview Thursday.
Fox host Bret Baier didn't seem convinced. Why, he asked, is a governor not better positioned for the White House than he is?
Rubio responded that the presidency is a "unique office" that's "not like being a senator, but it's not like being a governor, either," saying that presidents face national security challenges but that they "don't create jobs."
Republican voters tend to prefer governors to senators for the White House—and Rubio has been among them in the past as he endorsed former Arkansas Governor Mike Huckabee in 2008 and former Massachusetts Governor Mitt Romney in 2012. Recently in Iowa, a voter pointed out similarities between Rubio and then-Senator Barack Obama in 2008.
Will Rubio's new argument work? It remains to be seen, but the Floridian could use a boost. He has placed below the top three in the last five nonpartisan national polls of Republican primary voters tracked by RealClearPolitics.