Golfer Allenby Fires Caddie Mid-Round After Club Disagreement
Michael Buteau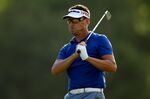 Golfer Robert Allenby fired his caddie during the opening round of the Canadian Open after the two disagreed over club selection.
Allenby, a 44-year-old Australian, and Mick Middlemo argued on the fourth hole yesterday, according to the Golf Channel. The altercation led to Middlemo being replaced by a school teacher from the gallery.
Before hitting his fourth shot, Allenby switched to an 8-iron from a 7-iron, Allenby told ScoreGolf.com. His ball landed in a creek, costing the player a triple-bogey and prompting a profane tirade, Middlemo told GolfChannel.com.
When the argument escalated over the next few holes, Middlemo said Allenby threatened him and told him he was fired. Middlemo dropped the golfer's bag and walked off the course after their ninth hole of the day. The caddie spoke with PGA Tour officials after the round and said he was the fourth caddie to be fired by Allenby.
Allenby recruited Tom Fraser, an Ontario school principal, to caddie for him over the remaining nine holes, ScoreGolf.com reported. Allenby finished with a 9-over par 81 and withdrew from the tournament.