Gold Below $1,100 Threatens Profit at One-Third of Producers
Danielle Bochove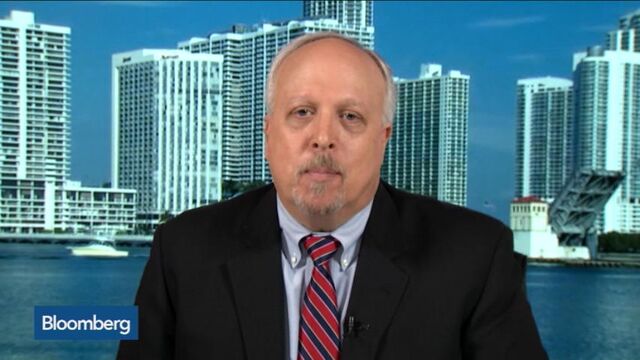 With gold trading below $1,100 an ounce, profit at one-third of the producers of the precious metal is under threat, according to Bloomberg Intelligence.
Among 18 gold companies that reported so-called all-in sustaining cash costs in the first quarter, six had costs above $1,100, according to a Bloomberg Intelligence note on Friday.
That means the companies are under tremendous pressure to cut costs or shut unprofitable operations, said Kenneth Hoffman, the BI analyst who wrote the note. The big question is, how quickly will they respond.
"I think these guys are scrambling right now," Hoffman said by phone on Friday. "This has been a really fast decline. I don't think anybody really saw this coming,"
AISC provides a more comprehensive snapshot of the cost of producing an ounce of gold because, unlike so-called cash costs, it includes general and administrative expenses and other costs that affect profit margins.
Among the miners with a market value of more than $1 billion, Gold Fields Ltd. had an AISC of $1,143 an ounce in the first quarter. That compares with gold futures that settled at $1,085.60 an ounce on Friday on the Comex in New York, the lowest since 2010. Gold has declined 8.3 percent this year.
'Silver Lining'
The report also illustrates the exposure of major gold miners should gold prices drop further. Barrick Gold Corp. had an AISC of $927 in the first quarter, compared with $885 for Goldcorp Inc., and $849 for Newmont Mining Corp. Kinross Gold Corp. had a cost of $957 an ounce and Yamana Gold Inc. of $893.
The lowest price forecast for gold in a Bloomberg survey of analysts is $825 by the end of 2016, according to BI.
Still, miners operating in regions of the world where currencies have sold off are likely to get some relief on the cost side.
"The silver lining is, about 30 percent of your costs at a mine are labor costs," Hoffman said. "If you're in Canada, or Latin America, every mining currency is being decimated now."
Miners with operations in the U.S., where the dollar has strengthened, will see costs rise, Hoffman said.