We Just Got the Most Optimistic Chart in America. So What Is Janet Yellen Waiting For?
Today's jobless claims number was even better than it looks
by
Doyle: "I put it all on Lucky Dan. Half a million dollars to win."
Kid: "To win? I said place! 'Place it on Lucky D—' That horse is gonna run second!"
Doyle: [runs horrified to the betting booth] "There's been a mistake! Give me my money back!"
—The Sting, 1973
I could not get enough of Yankee Thurman Munson. And I got too much of Tony Orlando and his yellow ribbon. Robert Redford and Paul Newman captured lightning a second time with The Sting. It was 1973, just before an ugly goods-centric recession that no one saw coming. There were very few walking into state offices to file for unemployment benefits. Now we are back to 1973. Except, we are not.
We're actually doing way, way better than 42 years ago.
Thursday morning's claims report was terrific. At 255,000, it's the best statistic since November 1973. The unemployment rate is 5.3 percent and heading south. And yet, Fed Chair Janet Yellen is worried about "slack." Joshua Shapiro of MFR Economics says "claims" signal a robust trend for monthly nonfarm payroll growth. He sees little "slack." John Herrmann at Mitsubishi UFJ suggests the Federal Reserve will act, setting a 60 percent likelihood of a September rate hike. Chair Yellen is worried about "slack."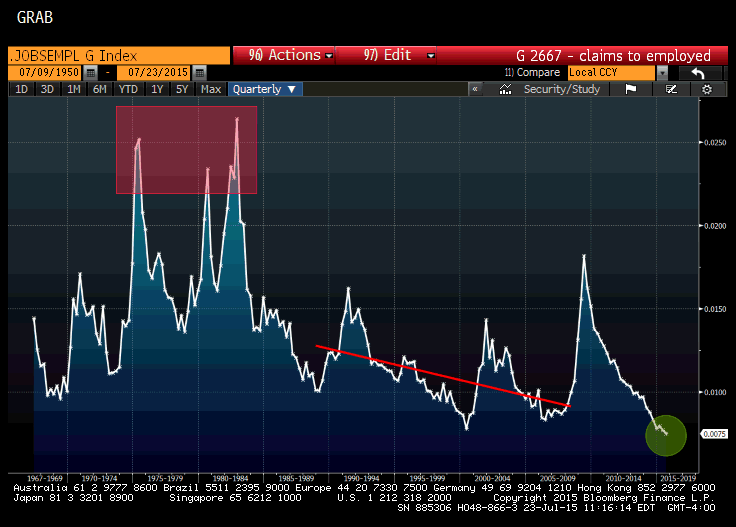 This chart adjusts the great news on claims to even better news. It shows weekly jobless claims, taken as a four-week moving average and compared with the monthly employed of America. As the nation employs more and more of the population, unadjusted claims need to be adjusted. This is one adjustment with those-shown-the-door way below the recent trend, in red. As well, note the recent ugly peak in claims to the real carnage of the post-1973 recession and the double recession of the early 1980s, the red rectangle.
This is arguably the most optimistic chart in America. The optimists grab on to it and ask, "What is Janet waiting for?"
Discuss.
Before it's here, it's on the Bloomberg Terminal.
LEARN MORE