Moynihan Tightens BofA Grip as Friction Said to Spur Shakeup
Hugh Son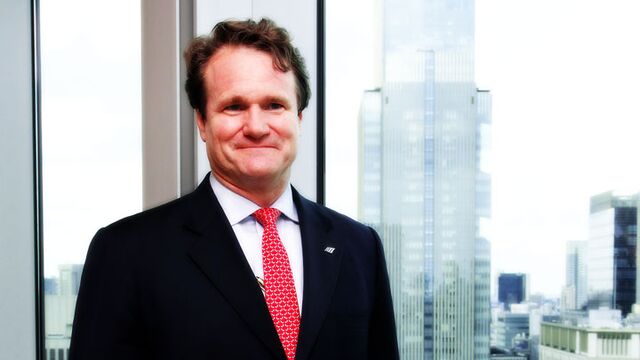 Bank of America Corp. Chief Executive Officer Brian Moynihan named the fourth finance chief of his tenure in a broad shakeup as he seeks to overcome regulatory hurdles and reverse shrinking revenue. The shares fell.
Paul Donofrio, 55, will replace Bruce Thompson, the company said late Wednesday in announcing a series of changes and promotions. Thompson, once considered a potential successor to the CEO, is leaving to pursue opportunities elsewhere, according to two people with knowledge of the situation. His relationship with Moynihan had deteriorated recently over disagreements about where to make tactical investments to boost revenue, one of the people said.
The moves mark Moynihan's most sweeping leadership changes since 2011, when wealth management head Sallie Krawcheck departed along with a former chief financial officer, Joseph Price. Thompson had already taken the CFO post that year after rising through investment banking roles and overseeing risk.
Moynihan, who became CEO in 2010, has been consolidating power in the past year, adding the chairman title in October. As his longest-serving CFO, Thompson repaired the firm's balance sheet amid billions of dollars in litigation costs, fewer opportunities to boost profit and tougher regulations that followed the financial crisis.
'Feeling Heat'
"There must have been some kind of strain between Brian and Bruce for him to step down at age 50," Charles Peabody, an analyst at Portales Partners, said in a phone interview. "You've had five years of declining revenues, and Brian is undoubtedly feeling the heat to grow this thing."
Moynihan and Thompson didn't respond to messages seeking comment. A company spokesman declined to comment.
The timing of the change surprised Peabody, coming a week after second-quarter results gave investors and analysts hope the U.S. bank most beset by the financial crisis had turned a corner. The Charlotte, North Carolina-based lender boosted revenue while shaving expenses and avoiding major costs from legal claims.
In a memo to staff, Moynihan went to lengths to credit Thompson for improving the firm's capital levels amid the post-crisis turmoil. Bank of America paid more than $70 billion to settle disputes, mostly tied to the 2008 acquisition of subprime lender Countrywide Financial Corp.
'Challenging Bends'
"No finance executive in the world in the past decade has contended with greater challenges and discharged his responsibilities with as much skill and grit as Bruce Thompson," Moynihan, 55, said in the memo. More broadly, he said, "there have been some challenging bends in the road on which we have traveled."
Bank of America suffered a series of missteps in recent years tied to the Federal Reserve's stress tests to prove banks can weather another crisis. Last year, the firm made a $4 billion miscalculation that forced it to scuttle share buybacks. In March this year, regulators let it repurchase stock on the condition executives resubmit models and improve internal controls by September. Donofrio takes over Aug. 1.
Mike Mayo, an analyst at CLSA Ltd., said the shakeup falls short of the substantive changes the company needs, citing the stress-test failures and the board's decision to give Moynihan the chairman's title, negating a 2009 shareholder vote.
"Many management changes show lack of stability at the top, and some of these changes also seem to result in overlapping responsibilities, which can reduce accountability rather than enhance it," Mayo, who recommends that investors sell Bank of America shares, said in a note to clients.
Bank of America dropped 1.3 percent to $18.22 at 11:39 a.m. in New York, the worst performance of 24 U.S. lenders in the KBW Bank Index. The stock has gained 1.8 percent this year, trailing the index's 7.8 percent advance.
Navy Service
Donofrio, who was named to oversee the finance teams for consumer and wealth management in April, previously was head of global corporate credit and transaction banking. Before that, he was co-head of corporate and investment banking for three years.
A graduate of the U.S. Naval Academy, Donofrio served six years in the Navy, according to his LinkedIn profile. He then earned an MBA at the University of Chicago before almost a decade as an investment banker covering health care at smaller firms. He joined Bank of America in 1999 and rose to global head of health care, retail, technology and media by 2006.
Andrea Smith, the head of human resources, will assume a new role as chief administrative officer. Terry Laughlin will lead wealth and investment management and become vice chairman as David Darnell retires later this year, according to the memo.
Living Will
The changes elevate Laughlin, who's overseeing the bank's revised submission due in September, and Smith, who will work with him on next year's stress test. She'll eventually assume responsibility for the test and the firm's so-called living will, which explains to regulators how the company can be broken up in an emergency.
For others, Moynihan burnished titles. Anne Finucane, global chief strategy and marketing officer, was awarded the additional designation of vice chairman to reflect her work in overseeing corporate governance. General Counsel Gary Lynch was named a vice chairman. Cathy Bessant's title was revised to chief operations and technology officer without any change in responsibilities. Moynihan also used the top of his memo to praise Chief Operating Officer Thomas Montag, 58, whose role remains the same.
Laughlin and Finucane worked at FleetBoston Financial Corp. with Moynihan before it was bought by Bank of America. Moynihan also further strengthened his grip on his job in part by surrounding himself with deputies who are older than he is, making it less likely one will succeed him, Peabody said.
"It's not a very deep bench of people younger than him," Peabody said. "Montag is older than him, Laughlin is older than him, and Donofrio is his age."
Before it's here, it's on the Bloomberg Terminal.
LEARN MORE