A Foreign Reformer Takes on Odessa
Georgia's ex-president wants to end a culture of corruption
By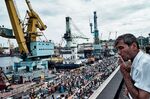 Once a top lawyer at Microsoft and now a government official in Ukraine, Sascha Borovik says politics there is like a Mexican standoff. Corrupt politicians and oligarchs point guns at each other, he says, "then we enter, unarmed, but making a lot of noise. The whole dynamic changes abruptly." By "we" he means the team brought in by Mikheil Saakashvili, who was appointed governor of the Odessa region by President Petro Poroshenko on May 30.
As president of Georgia from 2004 to 2013, Saakashvili carried out the deepest institutional reforms seen in the former Soviet Union, cleaning up the police and liberalizing the economy. The final years of his presidency were clouded by Georgia's defeat in its brief 2008 war with Russia as well as by criticism that he was turning toward authoritarianism. A naturalized Ukrainian, he rules a province of 2.3 million people (which includes the city as well), one of Ukraine's most populous, criminalized, and politically unstable regions.

Last year, Odessa province was on the verge of a pro-Russian rebellion like the one that led to war in Eastern Ukraine. The struggle between loyalists and separatists ended abruptly on May 2, 2014, when 48 people died in violent clashes and a deadly blaze in the local trade unions building, where pro-Russian activists had barricaded themselves. Separatism in Odessa has largely evaporated because of the shock of that incident and the carnage in Eastern Ukraine.
The appointment of Saakashvili, a sworn enemy of Russian president Vladimir Putin, has been received by the locals with surprising enthusiasm. "Everyone just instantly fell in love. It was a genius decision, because he is truly independent without any vested interests locally," says Andrey Stavnitser, chief executive officer of TIS, the largest dry cargo port in the Odessa region.

Ukraine—and the Odessa region in particular—is plagued by corruption and hobbled by impenetrable bureaucracy. The country is No. 142 on Transparency International's Corruption Perceptions Index, lower even than Russia, No. 136. Saakashvili's native Georgia is far above at No. 50, the result of reforms he wants to replicate in Odessa.
Changes will begin with government services. He wants to streamline and automate the process for obtaining official papers. Odessans sometimes have to queue for days and are bounced from one office to another, facing extortion by officials every step of the way. Saakashvili says the established local bribe price for foreign businessmen to get residency permits stands at $7,000. He pledges to eliminate the practice.

The biggest challenge in Odessa, Ukraine's largest port, is reform of the customs service. Saakashvili says the government loses as much as $1 billion a year in unpaid duties at Odessa's three main ports as exporters and importers choose to smuggle goods rather than go through the corrupt customs service.
Customs officials have many ways to wring money illegally from shippers who have to pay duties. They often treat shipments of ordinary goods as luxury items, which are subject to much higher tariffs. "They call it making the client cough," says a former high-ranking customs official. The actual bribe takers keep only a small share of the take, he says, with the rest going to superiors. Saakashvili says he will automate the department and sack pretty much all the staff. In their place, he will hire "young people with model looks" so passing through customs becomes a pleasant experience.

The aim of the reform, says Borovik, who is Saakashvili's top assistant, is to "completely change economic practices in a region where a large part of the population is dependent on smuggling." Saakashvili hopes to remove bottlenecks set up to generate bribes and to lower duties so that complying with the law would be more cost-effective than disobeying it.
Saakashvili is bringing in highflying foreigners like himself. On July 17 he introduced his vice governor for welfare issues, Maria Gaidar, a Russian opposition figure and the daughter of Yegor Gaidar, the late reformist prime minister of Russia. Like Borovik, she's a graduate of Harvard, one of several on the team. Other major U.S. schools, such as MIT, are also represented. Former members of Saakashvili's Georgian government are presiding over major police reform in both the Odessa region and Ukraine overall. "Our doctrine vis-à-vis Ukraine is this: Guys, we need fast reforms, so either you conduct them at our pace or you allow us to move at our own," says Borovik.

Saakashvili appears to be betting that successful reform in Odessa and Ukraine could become a weapon against his old nemesis, Putin. At the appointment of Gaidar, he spoke of her to potential investors, saying, "The fact that such a prominent Russian politician is joining us means we are invincible." Gaidar understands there is a greater goal involved as well. "If we succeed here, we'll succeed in Russia, too," she said in reply.
Investors are enthusiastic but cautious. Vladimir Matias, managing director of Goetzpartners, a financial consultant in Moscow, says, "there are many people who no longer want to invest in Russia. The more stable Ukraine becomes, the more Russian money will start accumulating in Ukraine." He says, however, he's not ready to invest in Ukraine quite yet.
The bottom line: Mikheil Saakashvili has moved from Georgia to Ukraine to rule and reform the province of Odessa.
Before it's here, it's on the Bloomberg Terminal.
LEARN MORE