Hamptons Home Prices Fall as More Sellers List Properties
Oshrat Carmiel and Chloe Johnson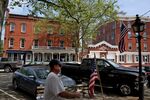 The real estate market in New York's Hamptons has cooled from a frenzied pace, with the median sale price in the beachfront towns falling to the lowest in a year and a half.
In the three months through June, Hamptons homes sold for a median of $849,000, down 6.5 percent from the second quarter of 2014, according to a report Thursday by brokerage Douglas Elliman Real Estate and appraiser Miller Samuel Inc. Completed deals in the area, the favored summer retreat of Wall Street financiers, tumbled 16 percent to 590.
More owners are putting their homes on the market after a surge in demand pushed prices to a seven-year high in 2014. Listings at the end of June totaled 1,694, up 2.9 percent from a year earlier and higher than the six-year quarterly average of 1,571, the firms said. With increased choices in most price ranges, shoppers were able to take their time on deals.
"The intensity has slowed a bit," said Jonathan Miller, president of New York-based Miller Samuel and a Bloomberg View contributor. "Any time you have a pronounced period of growth, which we had in 2014, that pulls in more inventory because sellers say, 'Hey it's time to sell.'"
At the current pace of transactions, it would take 8.6 months to sell all the homes on the market, up from 7.1 months at the end of June 2014, the firms said.
Sag Harbor
Julie Tatkon-Kent decided last year was an opportune time to try to downsize from the six-bedroom Sag Harbor home that she and her wife had custom-built in 1998. The Hamptons market had recovered from its recessionary lows, and there were signs that mortgage rates might climb.
"I knew those rates weren't going to stay low forever," said Tatkon-Kent, 58, a psychotherapist who runs a private practice from the house and plans to live in the area until the couple's 15-year-old daughter finishes high school.
Working with broker Paul Brennan of Douglas Elliman, she listed the property, on a half-acre with a swimming pool, in June 2014 for $2.25 million, Brennan said. About a year later, she accepted an offer of $2.2 million, agreeing to whittle the price tag in exchange for being able to stay in the home through October, Tatkon-Kent said.
"The market is not moving at the pace that it was a year ago, but it's still moving," Miller said.
Homes in Sag Harbor sold for a median of $935,000 in the second quarter, 2 percent less than a year earlier, according to a separate report Thursday by Corcoran Group. The number of purchases was little changed at 55.
In the village of East Hampton, there were 20 sales in the second quarter, down from 28 a year earlier, Corcoran said. The median price of those purchases climbed 11 percent to $2.93 million.
Southampton Village also saw fewer sales at higher prices. Deals dropped to 31 from 44 in last year's second quarter, while the median price almost doubled to $2.85 million.
Luxury Market
The luxury market is still strong. The median sale price of homes in the category, the top 10 percent of all deals, rose 1.8 percent to $5.29 million, Miller Samuel and Douglas Elliman said. Listings declined 10 percent to 242, according to the firms.
Corcoran broker Gary DePersia sold a newly built 7,750-square-foot (720-square-meter) house in Water Mill for $9.9 million in April after drawing three bids. The property, first listed for $9.95 million when construction began in April 2013, had its price raised to $10.95 million when it was finished last July, he said.
"The house stays on the market for a while, and then -- this may not be a delicate way to put it -- but houses become like a dog in heat," DePersia said. "All of a sudden, all the buyers are sniffing around them, and it becomes the next greatest thing to go."
Before it's here, it's on the Bloomberg Terminal.
LEARN MORE