Italy Leans While Greece Tumbles
It's deep in debt but has manufacturing and prudent banks
By and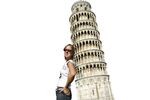 Viewed from Berlin or London, the financial woes of Italy and Greece can look dangerously similar. Both sit on mountains of public debt and suffer from double-digit unemployment. So why hasn't Italy had to shutter banks, submit to austerity measures in return for emergency loans, and contemplate an exit from the euro?
For now Italy is chugging along, paying its debts and selling bonds. Its benchmark stock index is up 25 percent this year. It's emerging from a record recession even as Greece enters a new slump after a brief rebound in 2014. Rome-based Eni, Europe's No. 4 oil company, is pumping 1.7 million barrels per day globally and says output will keep rising. Finmeccanica sells helicopters to corporations and armed forces from the U.K. to China. Carnival cruise liners are made in Fincantieri's Trieste shipyard. Italian luxury goods, from Fendi to Ferrari, are at the top of consumer shopping lists. Among European manufacturers, Italy trails only Germany in production.
The Greeks? They've got "tourism and shipping and little else," says Marc Ostwald, a fixed income strategist at ADM Investor Service in London. Greek exports fell 7.5 percent in the first quarter, while Italy's rose more than 3 percent. Tourism in Italy generated about €34 billion ($37.1 billion) last year, almost triple what it did in Greece.

With 60 million residents, Italy is more than five times as populous as Greece. History makes a difference, too. Rebuilding from World War II, Italy set off on the Dolce Vita boom years, popularizing the Vespa scooter and making a mark in international design. Nutella, a nut-based chocolate spread introduced after the war, had annual sales of €8.4 billion last year, making the Ferrero family one of Italy's richest. Greece, by contrast, went from government by junta in the 1960s and 1970s to a republic run by a political elite and a bloated government in the 1980s. Cutting its civil service and pension costs down to an appropriate size lies at the heart of the struggle between Greece and Europe on economic reform.
Italy's strength as an industrial exporter has provided stability, helping the country build up gold reserves of $90 billion—the world's third-biggest stash after the U.S. and Germany and more than 20 times what Greece holds. Just a single Italian bank needed a public bailout after the 2008 crisis, even as dozens of lenders in northern Europe had to dip into state coffers to stay open.
Household debt as a proportion of gross domestic product is relatively low, about 45 percent, vs. 65 percent in Greece and about 57 percent in Germany. And Italy's "stable real estate sector has never experienced boom-bust cycles like those in Spain and Ireland," says Fabio Fois, European economist at Barclays in Milan.
The euro region's institutions are doing everything they can to avoid a Greek tragedy in Italy. The European Central Bank is making sure member nations have as much cash as they need and that governments can borrow money at a sustainable rate. (The exception, of course, is Greece, which must get permission to borrow just to pay its debts.) Every month the ECB buys €60 billion of bonds from member states. That's pushed yields to near historic lows, allowing Italy to borrow cheaply. "Italy faces a much lower insolvency risk," says Raj Badiani, an economist at IHS Global Insight. Its "tax base is notably larger than its sovereign debt costs, unlike Greece."
Italy may yet become another Greece. Aside from the recent uptick in growth, its numbers are grim. The global financial crisis of 2008-09, followed by the euro debt crisis, triggered the deepest and longest recessions in Italy's postwar history. Its €2.3 trillion debt, more than 132 percent of GDP, is second only to Greece in the euro area. Italy has lost a quarter of its industrial output, and GDP has contracted by 9 percent since 2007. As a member of the euro zone, Italy can't counter falling foreign demand by devaluing its currency, as it often did when the lira was in use. Unemployment is 12.5 percent, and 45 percent among youth—many of whom flee abroad. "Some of my best pupils, who speak English and other languages, have had to move to the U.K. or Germany to find jobs and a better future," says Ivo Pezzuto, who teaches economics at Università Cattolica in Milan.
Prime Minister Matteo Renzi, 40, Italy's youngest leader since Benito Mussolini, has pushed through labor market reforms that will make it easier to hire and fire people and presumably drive down manufacturing costs. The downside is that if the jobless rate spikes and workers earn less, Italians may cut spending or start racking up debt. In Turin, where the Agnelli family founded the industrial giant Fiat in 1899, unemployment is above 12 percent, double the rate a decade ago. Many locals blame the costly euro for pushing carmaking jobs to Eastern Europe and Mexico, where Fiat makes some of its pint-size 500s.
In the capital, Rome seems to be crumbling around its ancient ruins. Unable to pay down debt of €1.5 billion, the municipality has received repeated bailouts from the national government. And the city has earned a new nickname: "Mafia Capitale." Prosecutors say a group of politicians, officials, and mobsters skimmed money from the public budget. Trash piles up on the cobblestones, and it's a minor miracle to step aboard a city bus that's air-conditioned. Want to see a crime in progress? Just stand on the subway platform under the Roma Termini train station, and you'll spot pickpockets at work within minutes.
Yes, it's that bad. But at least it isn't Greece.
The bottom line: Italy has managed to avoid Greece's fate because of its stronger economy and ECB efforts to keep the euro zone stable.
Before it's here, it's on the Bloomberg Terminal.
LEARN MORE