Dunk the Trump, and Other Stratagems of the GOP Debate Carnival
Ten candidates on the debate stage (including a certain real estate and reality-TV magnate) will make for a unique set of tactical imperatives.
By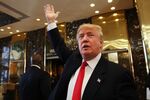 Chris Christie, a larger-than-life individual, is accustomed to dominating the stage. This makes the prospect of sharing a proscenium on Aug. 6 in Cleveland with a larger-than-larger-than-life personality like Donald Trump quite a challenge—especially when the two together would make up only one-fifth of the participants. That day, 10 Republican presidential candidates will take the stage at the Quicken Loans Arena for the first primary debate of the 2016 election. On Friday, Christie expressed something that might have been taken for exasperation over the number of podiums. How can a candidate prepare? "We're not going to do mock debates," Christie said in Manchester, New Hampshire, speaking with reporters moments after touring a drug treatment center. "Not at this point. It's too many people."
"I don't even know," he added, "if I could find 10 people to stand there and pretend for two hours."
And Christie may not even make it to the stage.
The first GOP primary debate—because of Trump, and because of the reality TV-style elimination-round dynamics—already shows signs of transcending politics, deteriorating (or improving, depending on your fancy) into a kind of televised carnival. "I do think there'll be a lot of interest in the debate," said Doug Watts, a spokesman for candidate and retired neurosurgeon Ben Carson, "just because of the theatrics."
"It may be the ratings lineup at the end of the year is the Super Bowl, Dancing With the Stars, and the debates with Donald Trump," he said. 
At this carnival, the most popular game is liable to be dunk-the-Trump. But mass jeering at the main attraction might, paradoxically, create an opening for others. "I wonder if anyone's going to figure out a way–Cruz is most likely—to say, 'Everyone's picking on Donald Trump, but let me stand up for him,'" said Michael Sheehan, a communications consultant who has worked with Presidents Barack Obama and Bill Clinton on debate preparation. "That could create an interesting opportunity for someone," Sheehan said, speaking by phone from San Francisco. "It's sort of the inverse of the rule."
But the basic dynamic, especially in such a large field, is differentiation. "That's probably job one," Sheehan said. He works strictly on the Democratic side—which is why, he said, there was no conflict-of-interest for him to speak for this story—but said the rule applies to any multi-candidate forum. "Particularly this early in the process, there's a phrase you really want to try to use and hopefully you can justify: 'I'm the only person on this stage who fill-in-the blank.'"
For all but the heaviest-weights, the measure of success is fairly modest. "The prize you want to go for is Miss Congeniality," Sheehan said, meaning, "I didn't know who he or she was, but now I have a better idea of who that person is." And that person seems nice.
The challenge is that that tiny little prize has to be obtained with very few attempts. "Here's where you have to do the math," he continued. "Divide the talking time up by 10, and recognize that introductions take a little time, the questions take a little time." The debate will last for two hours, which will give each candidate nine or 10 minutes, if they're lucky.
"You're only going to get three or four shots to talk," Sheehan said. "And Lord knows what the questions are going to be. I would almost package all the domestic issues into one big wad—and then, what am I going to say about foreign policy."
But more difficult, Sheehan said, may be simply standing up on stage in silence."You may go 10 minutes or maybe more without a peep—that's a long time to stay mentally engaged. And to pick who I'm going to respond to."
The campaign of at least one candidate currently outside the top 10 maintains that missing the first debate may not be exactly disaster. "As things stand now," said George Pataki spokesman David Catalfamo, it "could be a Trump circus."
"In a lot of ways," he continued, the second debate, to be held at Ronald Reagan Presidential Library in California on Sept. 16, "looks like it could be a more serious conversation than the first debate, given the cast of characters." For now, Christie is the sole candidate who seems to be speaking openly about his debate approach. The name of his campaign tour is, after all, "Tell It Like It Is." Almost all of the Republican campaigns and consultants contacted for this story declined to comment for the record, and even off the record would only speak in the broadest and most anodyne terms. 
"The big thing here with 10 people is going to be making sure that your answers are tight and understandable," Christie said Friday. "It's not like you're going to have a long forum to explain yourself, or on the next question be able to explain what you really meant on the last one. So it's really going to be about a discipline, for me, on how to most effectively communicate in a group of 10 people with a couple of moderators and a short period of time."
He said his debate training would involve those in his inner circle asking him probing questions to formulate his thoughts on what he wants to say.
Christie said that the first practice would take place this week. "I'll get a group of the people that I trust, and who are smart, around a table—get them to torture me, and we'll see where we land."
—Terrence Dopp contributed to this story.