China Wants Silicon Valleys Everywhere
Local officials are setting up special high-tech zones all over
By and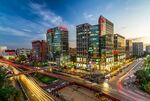 "Ignite the innovative drive of hundreds of millions of people." That's what China's Premier Li Keqiang called on all levels of government to do in a March address. With its industrial complex losing steam, the country must rely on innovation, especially of the digital kind, for new sources of growth. "You can see there are two Chinas. One is the old China that is slowing down in growth; there's a new China that is driven by the Internet," says Hans Tung, managing partner at GGV Capital, a venture capital firm in Menlo Park, Calif. "You know they need to grow the new China to offset the slowing down of the old China."
The result of Li's speech and other similar messages from the central government is that municipalities across China have designated areas in their towns and cities as special high-tech zones where entrepreneurs can enjoy the fastest Internet connections, government assistance in funding, and access to affordable software programmers from the closest university. Such zones can be found in many countries. What's remarkable about China's effort is its scale: As of March 2015, 129 high-tech zones had been approved by the State Council. "Are they all likely to become major hubs of innovation or technology?" asks Gary Rieschel, founding managing partner at Qiming Venture Partners. He figures the U.S. has four such hubs: Boston, New York, San Francisco/Silicon Valley, and Seattle. "Maybe China will ultimately have eight," Rieschel says. "So most of them will not."

This drive to promote Internet development isn't a guarantee to reviving China's economy, says Valentine Ding, managing director at ATF Capital, which focuses on tech-sector investments.
"If these startups can't create a real connection with consumers," Ding says, "it will create an even worse employment picture for the locals when the bubble crashes."
City officials in Changsha, capital of Hunan province, are doing their best to nurture their own Silicon Valley. Changsha's high-tech zone is 15 times the size of New York's Central Park. The city wants to lure companies that focus on new materials, software development, electronics manufacturing, and mobile apps.
Entrepreneurs who started out in Hunan have formed Hu Xiang Hui, meaning the Hunan Club, to promote Changsha's and the zone's advantages. The club's members include Hugo Shong, a well-known venture capitalist; Yao Jingbo, founder of classified ads website 58.com; and Jeffrey Zeng, head of the venture capital unit of Citic Capital Holdings. "In the past you would see most of the venture capital deals coming from the big cities, but now you're seeing second- and third-tier cities providing great opportunities," says Shong, a founding partner of IDG Capital Partners, which was an early investor in Tencent and Baidu. In the year since officials in Hunan reached out to Shong to help beef up the region's competitiveness, more than 500 companies have been founded in the high-tech zone and 10,000 new jobs added, Chen Songling, a deputy director at the economic and information department for the province, said at an investment forum in April.
At dinner with the party secretary of Changsha during that forum, Shong said he suggested that the government take a more hands-off approach and not try to overregulate or manage these fledging companies. Shong says he also told the party secretary that Changsha should play to its strengths. "Hunan has a foundation for entertainment content," he says. Hunan's television station has produced a top-ranking show in China. "If we can combine that with the Internet, it would be quite interesting."
While officials work to make cities such as Changsha innovation hubs, the entrepreneurial instincts at work in Beijing are stoked by huge sums of private-sector cash. With homegrown champions such as Baidu attracting top talent, Beijing's Zhongguancun high-tech district has since 2003 created the most software companies valued at more than $1 billion each. Only the U.S. has created more, according to venture capital investor Atomico. The allure of Zhongguancun comes from the camaraderie that promotes brainstorming in the district's coffee shops and at the numerous forums that attract the city's brightest electronics innovators.
That's something Changsha doesn't yet have. Says 21-year-old Zhou Jieliang: "To be honest, the overall startup vibe in Hunan isn't that great right now." Zhou, a university student in Changsha who co-founded an online education platform there, says she spends more than half her time in Beijing, Hangzhou, and Shanghai. The contrast with Changsha is "quite stark," she says.
The bottom line: Beijing's Zhongguancun high-tech district is the closest thing China has to Silicon Valley.
Before it's here, it's on the Bloomberg Terminal.
LEARN MORE