Checking In on Hillary Clinton and Jeb Bush With People Who Know Them Best
Former Presidents Bill Clinton and George W. Bush talk family and 2016 in a joint interview with Time.
By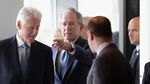 Democratic presidential candidate Hillary Clinton didn't always see a future in politics, former President Bill Clinton revealed in a Time magazine story published Thursday. At first, she wasn't even certain about a future with him.