politics
Donald Trump's Name-Calling Goes too Far, Nikki Haley Says
Jennifer Oldham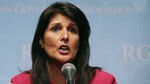 South Carolina Governor Nikki Haley said Donald Trump has gone too far with his personal attacks on political rivals, including calling U.S. Senator Lindsey Graham an "idiot" at a campaign event in her state.
"It's wrong," Haley said Tuesday during a Republican governors forum at the Aspen Institute in Aspen, Colorado. Even as she called Trump a supporter and friend, she said, "he's creating a very combative tone. Every day I feel like I'm hearing Mr. Trump attack another person personally."
Republicans have struggled with how to deal with Trump, a real estate tycoon who's one of 16 seeking the party's nomination for president. He gained in Republican opinion polls after he refused to apologize for saying Mexico is sending rapists and criminals to the U.S. That caused a backlash with Latinos who are crucial to winning the White House in 2016.
At a campaign appearance in Graham's home state of South Carolina on Tuesday, Trump read Graham's private mobile phone number at a rally attended by hundreds. In his speech Trump called Graham an "idiot" after Graham called him a "jackass," in a CNN interview Monday.
Trump was criticized by fellow Republicans after he said Saturday that Arizona Senator John McCain, a Vietnam veteran and former Republican presidential candidate who was captured, tortured and imprisoned for five years, was considered a war hero only because he was captured.
During the announcement of his presidential campaign on June 16, Trump said that immigrants are "bringing crime. They're rapists." NBC, Univision and Macy's subsequently cut ties with the billionaire.
Trump came in on top of the field nationally, with 24 percent of Republican registered voters supporting him in a poll by the Washington Post and ABC News released Tuesday.
Haley called for the return of a civil tone in the campaign, singling out Trump.
"I'm disappointed in what he's done," she said. "It's not what we are looking for in a president. We are looking for someone who brings people together."
North Carolina Governor Pat McCrory, speaking at the Aspen Institute, said he doesn't support boycotting Trump's companies because it's harms other businesses that work with Trump's.
"I disagree with what he says," McCrory said. "That's the great thing about our country, you can say what you want politically."
Oklahoma Governor Mary Fallin and Arizona Governor Doug Ducey joined Haley and McCrory at an annual event with Republican governors moderated by Walter Isaacson, the Institutes's president. They also discussed reducing prison populations by addressing mental health needs and drug addiction.
Before it's here, it's on the Bloomberg Terminal.
LEARN MORE