Qualcomm to Cut 15 Percent of Workforce After Worst Quarterly Sales Drop Since 2009
Ian King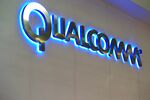 Qualcomm Inc., seeking to appease investors after posting its worst sales decline since 2009, said it will cut its workforce by 15 percent and review strategic alternatives, including a breakup, as competition stiffens in the smartphone-chip market.
The company plans to reduce costs by a total of $1.4 billion, including cutting executive pay, and will shake up its board, according to a statement Wednesday. The San Diego-based company also forecast fiscal fourth-quarter sales and profit that may fall short of analysts' estimates.
Chief Executive Officer Steve Mollenkopf is conducting the largest job reduction in the company's history as its chip unit loses orders and the technology-licensing division suffers amid a consumer shift to cheaper smartphones. He's yielding to pressure from activist hedge fund Jana Partners LLC, which has been pushing for cost cuts, executive pay realignment and the return of more capital to investors.
"It's undeniable they're losing share -- lots of it," said Stacy Rasgon, an analyst at Sanford C. Bernstein & Co. He has the equivalent of a hold rating on the stock. "They've got to take cost out."
The planned job cuts will amount to about 4,700 positions, based on the 31,300 employees the company reported having at the end of fiscal 2014.
Qualcomm shares fell 2.9 percent to $62.30 at 9:45 a.m. Thursday in New York. The stock was down 14 percent this year through Wednesday.
Board Changes
As part of today's moves, Jana Partners agreed to some standstill provisions, including that it won't speak publicly about Qualcomm's plans, call shareholder meetings or increase its holdings in the chipmaker to more than 4 percent. Changes to the company's board include the retirement of Brent Scowcroft and Duane Nelles, while Donald Cruickshank won't seek re-election in 2016, and Raymond Dittamore won't stand for re-election in 2017, assuming he's elected in 2016, Qualcomm said.
To replace them, Qualcomm is adding Mark McLaughlin, CEO of Palo Alto Networks Inc., and Tony Vinciquerra, a former executive of Fox Networks Group Inc., as part of the agreement with Jana. One other independent director, chosen by the company and approved by Jana, will be added soon. Qualcomm also reiterated its commitment to return at least 75 percent of the cash it generates to shareholders through dividends and buybacks, in addition to a previously announced $10 billion share-repurchase program to be completed by March 2016.
Qualcomm has more than doubled sales since 2010 and it's added staff at almost the same rate. The company has grown from 17,500 employees at the end of 2010, according to data compiled by Bloomberg.
'Optimize' Spending
"We had tremendous growth in both our business and employee base over the last several years," Mollenkopf said in an interview. "It's typical in a situation like that to have an opportunity to have a look at that and say maybe we can optimize the way in which we're spending."
The company isn't backing off on investing in new products and will continue to spend about $4 billion a year on research and development, he said. It's paring investment by concentrating only on areas, such as processors for server chips, that provide a major opportunity to grow, Mollenkopf said.
In the third quarter, which ended June 28, Qualcomm's net income fell to $1.2 billion, or 73 cents a share. Sales slid 14 percent to $5.8 billion, the steepest drop since a 19 percent decline in the fourth quarter of 2009, when chipmakers were reeling from a worldwide financial crisis that curbed consumer spending on technology.
Smartphone Makers
The company said the high-end processors and modems it sells are being hurt by shifts in the phone market. While Qualcomm doesn't name specific customers, it said the lucrative high end of the business is increasingly becoming the preserve of just two companies. The two biggest makers of smartphones are Samsung Electronics Co. and Apple Inc., and Samsung has started using its own chips in its Galaxy range. Apple uses its own processors alongside a Qualcomm modem in iPhones.
"Up until very recently Qualcomm was a very secure franchise that was able to just invest at will because they were so strong," said Suji De Silva, an analyst at Topeka Capital Markets Inc. He has a hold rating on the stock. "There are people now beginning to be able to service the market that they had to themselves."
Excluding certain costs, third-quarter profit was 99 cents a share, Qualcomm said. Analysts on average had projected profit of 95 cents on sales of $5.84 billion.
Net income in the current period will be 51 cents to 76 cents a share on revenue of $4.7 billion to $5.7 billion, Qualcomm said. On average, analysts had estimated earnings of 95 cents on sales of $6.13 billion, according to data compiled by Bloomberg.
Growth Stalls
Qualcomm has averaged more than 20 percent annual sales growth since 2010 after being the first to offer chips that connect phones to the fastest data networks using a standard called long term evolution, or LTE. Now, other companies such as South Korea's Samsung and Taiwan's MediaTek Inc. are beginning to erode its dominance.
In the first three months of the year, these companies were able to grab a combined 19 percent of the market, according researcher to Strategy Analytics. Qualcomm's loss of orders -- particularly those from Samsung's phone unit -- has wiped out year-over-year sales growth that had stretched back 19 quarters.
Reviewing Split
Qualcomm said it has bowed to pressure to reconsider splitting up its two main business units, one that designs chips and one that collects patent-license fees on smartphones. The company has looked into such a division in the past as regulators and other companies sought to challenge a business model where the majority of profit comes from royalties and the largest portion of revenue from chip sales.
"We're just taking a fresh look," said Mollenkopf, who has previously argued that the two units complement each other.
Such a division could deprive the chip-design business of cash for research and development, and might potentially starve the patent unit of new inventions made by its engineers. A split along those lines would make sense if it was part of a transaction where one of the businesses was sold or combined with another company, said Bernstein's Rasgon.
"It kind of destroys the company in its current form," he said. "A split as a precursor to something else might have some value."