New York's Threatened Airport Strike: What Fliers Need to Know
Mary Schlangenstein and Lauren Thomas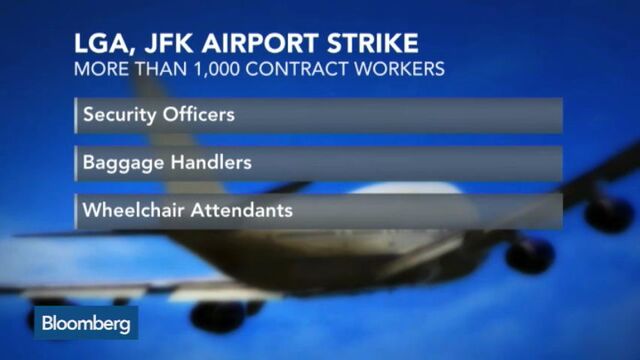 Airlines and officials at New York's Kennedy and LaGuardia airports are working to keep disruptions to a minimum during a planned strike by a contractor's bag handlers, security guards and wheelchair attendants.
If the carriers and the Port Authority of New York & New Jersey deliver on pledges to avoid snarled flights, fliers shouldn't notice any fallout in a walkout due to start Wednesday at 10 p.m. The risks may include slower luggage movements; the workers aren't directly involved in flight operations.
Delta Air Lines Inc. and United Airlines are among companies that use the more than 1,000 employees from a unit of Command Security Corp., the target of a union organizing drive. Citing the Port Authority, Command Security Chief Executive Officer Craig Coy said the strike shouldn't involve more than 250 people.
"We have been assured by our ground service provider that there will be no impact on our operations," British Airways said by e-mail. The airline is a tenant at Kennedy, where the strike is set to begin before spreading Thursday to LaGuardia.
The Port Authority declined to comment beyond saying it was preparing to avert any travel interruptions, while Coy wouldn't discuss employees' roles or say how many were deployed at each airport. Service Employees International Union is trying to represent them, saying they deserve higher pay.
American, JetBlue
American Airlines Group Inc., which has an overseas hub at Kennedy, and JetBlue Airways Corp., whose biggest base is at that airport, said they don't rely on workers from Command Security.
The workers' duties are less specialized than those of pilots, raising the prospect that managers or other replacements could step in. While Delta and United said they are getting ready, neither would give details.
"Delta will be taking measures to ensure that our more than 35,000 customers booked through LaGuardia on Thursday are not affected," a spokeswoman, Elizabeth Wolf, said by an e-mail. Delta had the biggest market share there for the 12 months ended in May, at 22 percent, according to U.S. Transportation Department data. It doesn't use the contractor at Kennedy.
United's main New York hub, at New Jersey's Newark Liberty airport, isn't part of the strike threat. The airline's market share is 7.8 percent at LaGuardia and 4.6 percent at Kennedy.
"We have contingency plans in place," said Luke Punzenberger, a spokesman for the unit of United Continental Holdings Inc.