New Jersey-New York City Trains Delayed After Power Faults
Benjamin Katz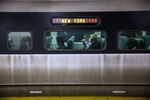 Trains running between New York and New Jersey have resumed with a 60- to 90-minute delay after an issue with Amtrak's overhead power cables, NJ Transit said.
Trains earlier had been suspended, according to a statement on the NJ Transit website. Midtown direct service is being diverted into Hoboken, NJ Transit said. Amtrak service also was being affected, New York City Emergency Management said.
Travelers with tickets for trains are able to travel on certain New Jersey bus routes as well as PATH commuter trains.
Amtrak has been hit by a series of issues since Monday, with signal problems in the Hudson Tunnel and in the Northeast Corridor causing delays for commuters.