Distressed-Debt Market Upended Amid Deepening Commodities Rout
Laura J. Keller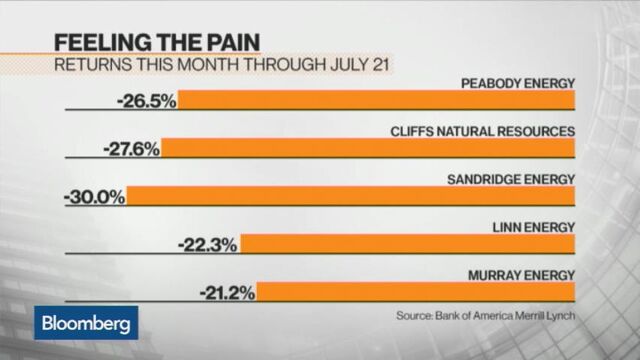 The worst commodities slump in 13 years is wreaking havoc for investors seeking to profit from companies in distress.
Distressed bonds have lost 8.2 percent this month as oil and coal prices slid, bringing this year's loss to 12.2 percent, according to a Bank of America Merrill Lynch index that tracks the debt. The securities are on pace to lose more than 20 percent for the second straight year, the worst performance since 2008. SandRidge Energy Inc. bonds have lost almost 30 percent this month through Tuesday, while notes of miner Cliffs Natural Resources Inc. were down more than 27 percent.
"Some guys who got in at 65 cents thinking they were going to get 75 cents are going to get 55 cents, or zero," said Erik Gordon, a law professor at the University of Michigan's business school. "You're going to come away with not just a trim, but a crew cut."
More than $7 billion of the distressed-debt market has been wiped out this month amid a renewal of a slide in commodities. The performance is a disappointment to investors who purchased about $40 billion of junk-rated bonds from energy companies this year, thinking that the worst of the slump was over. The extended losses in July are likely to add to a 1.4 percent loss in June for hedge funds that invest in distressed securities, according to Hedge Fund Research Inc.

Defaults Climb
Speculative-grade borrowers are increasingly unable to pay their bills, with their default rate expected to rise to 3.1 percent next March from 2.02 percent last month, according to Moody's Investors Service.
"We know the defaults are going to come," said Stephen Caprio, an analyst at UBS Group AG. "It's just, how bad does it get?"
A list of the riskiest borrowers tracked by Moody's has swelled to 206 in June, the highest in nearly four years.
"There is a limited supply of quality distressed-debt opportunities and considerable demand," said David Tawil, who manages $80 million as co-founder of hedge fund Maglan Capital in New York. "It's not an ideal time for investing in distressed debt."
Not all investors see it that way. New Jersey's pension system is planning a $300 million account with GoldenTree Asset Management to invest in stressed and distressed credits.
But for many others, the choice is to scale back.
Issuance of the riskiest junk bonds, those rated lower than Caa1 by Moody's or less than CCC+ by Standard & Poor's, has dwindled to $24.9 billion this year from $60.6 billion in all of 2014, Bloomberg data show.
"You really have to do your homework, and bet on good names," said Manases Zarco, a portfolio manager who helps manage high-yield and distressed debt at Newfleet Asset Management, which oversees $12.4 billion. "Or you will feel the pain, especially as we face the prospect of rising rates."
Before it's here, it's on the Bloomberg Terminal.
LEARN MORE