Blair Warns Labour of Return to 1980s as Corbyn Leads Poll
Robert Hutton and Joe Mayes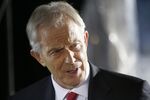 Former Prime Minister Tony Blair urged the U.K. Labour Party not to go back to the positions that kept it out of power in the 1980s, after a poll suggested anti-austerity candidate Jeremy Corbyn is leading the race for the Labour leadership.
Labour lost four elections between 1979 and 1992, including its worst post-World War II result in 1983, when it ran on a socialist platform later described by one candidate as "the longest suicide note in history." Blair then led it to three successive victories starting in 1997 by broadening its appeal to attract business support and encourage wealth creation.
In the wake of its second straight election defeat in May and the resignation of Ed Miliband as leader, the party is now debating its future, with Corbyn, 66, the standard bearer for a return to the party's pre-Blair values. A YouGov Plc poll in Wednesday's Times newspaper showed 43 percent of the Labour electorate backing the former trade-union official as their first preference, a clear lead over rivals Andy Burnham, Yvette Cooper and Liz Kendall.
"Yes, move on, but don't for heaven's sake move back," Blair urged party supporters at an event in London Wednesday. He said Labour's current situation was like 1979, when Labour Prime Minister Jim Callaghan was defeated by Margaret Thatcher.
"The Labour Party persuaded itself that the reason why the country had voted for Margaret Thatcher was because they wanted a really left-wing Labour Party," he said. "This is what I call 'the theory the electorate is stupid.'"
Nuclear Disarmament
Labour's 1983 manifesto advocated unilateral nuclear disarmament, withdrawal from the European Economic Community and a program of nationalization of key industries.
Speaking to reporters in central London on Wednesday, Corbyn dismissed a comment by Blair that he's the Conservative Party's preferred candidate, saying it was a "silly" remark.
"Did we lose the last election because we were too left-wing or because we were offering an austerity-lite agenda? I welcome the debate," Corbyn said.
Corbyn set out some of his economic plans in a speech to economists at a policy seminar in London on Wednesday. He said he'd make large reductions in corporate tax relief, introduce stronger anti-avoidance tax laws and create a national investment bank to fund infrastructure upgrades.
"Austerity is a political choice, not an economic necessity," Corbyn said. "You just cannot cut your way to prosperity, so Britain needs a publicly led expansion and reconstruction of the economy."
Bookmakers reacted to the poll by cutting Corbyn's odds of winning. He's 2/1 with Ladbrokes Plc and Paddy Power Plc, meaning a successful 1-pound bet would make a profit of 2 pounds. That makes him the second favorite behind Burnham.
Read this next: