Barclays McFarlane Expected to Signal Aggressive Cuts, Citi Says
Stephen Morris
John McFarlane, frustrated with the slow pace and poor returns at Barclays Plc, will unveil more cuts to the investment bank and accelerate sales of unwanted assets as he adopts an "aggressive approach," Citigroup Inc. said.
The chairman's other priorities are to continue the bank's "ambitious" cost-cutting program and increase revenue in U.K. mortgages and credit cards, Citigroup analysts Andrew Coombs and Ronit Ghose, with a buy rating on the stock, wrote in a note on Wednesday. Barclays will announce earnings on July 29 along with a revised strategy for the investment bank, which lags behind profitability at the rest of the firm.
"McFarlane will refocus the investment bank on U.S. and U.K., downsizing parts of the fixed-income operations, while building up its advisory and deal-execution activities," the analysts said in the report. "The downsizing or exit from areas such as long-dated rates, securitized products, structured credit, commodities and emerging markets needs to be accelerated."
McFarlane, 68, fired Chief Executive Officer Antony Jenkins this month and took control himself, pledging to boost revenue and double the share price over the next three or four years. London-based Barclays, Britain's second-biggest bank, and its European peers are expected to shrink debt trading operations as stricter capital rules make the business unsustainable.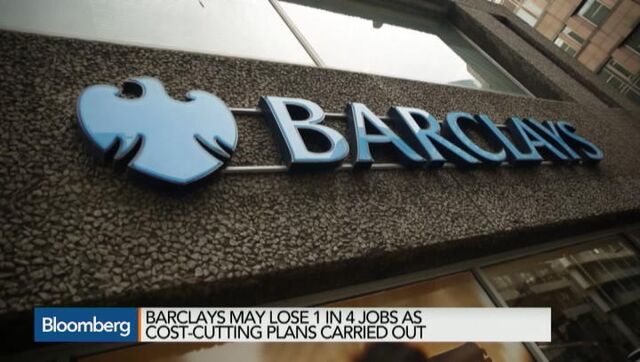 Investment Bank
Barclays said in May 2014 it will cut 7,000 jobs at its securities division and reduce its share of group assets to no more than 30 percent. So far, this program has caused revenue to drop faster than costs as the ax has fallen mainly among client-facing front-office employees.
This "revenue attrition" should ease as the focus shifts to support jobs in the back office, and Citigroup estimates the investment bank will have a 10 percent return on equity, a measure of profitability, in 2016. That still trails the bank's 12 percent target.
Within the "non-core" business, Citigroup said more European consumer banking assets, such as Italy and Portugal, may be sold and exposure to derivative assets including long-dated forwards, interest-rate swaps and options will be reduced at a faster pace. Barclays will also "predominantly exit" its "sub-scale" emerging-markets businesses outside of its three hubs in London, New York and Singapore, as well as winding down more of its commodities operations, they said.
CEO Search
McFarlane has said it's essential for a new CEO to have investment-banking experience because Jenkins "found it difficult to deal with" restructuring the division, Citigroup said.
The analysts list three internal candidates -- Finance Director Tushar Morzaria, Chief Operating Officer Jonathan Moulds and Personal and Corporate Banking CEO Ashok Vaswani -- and three external: BlueMountain Capital's Jes Staley, Morgan Stanley's Colm Kelleher and Australia & New Zealand Banking Group Ltd.'s Mike Smith.
Read this next: