The Definitive H&H John Kasich Scouting Report
Can he overcome his late start to churn the virtuous cycle of polls, fundraising, and news coverage?
By and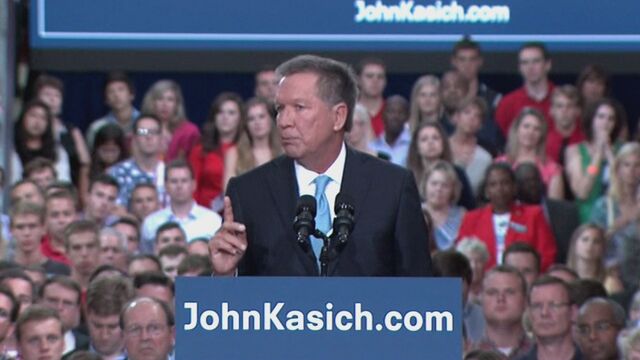 What he's got: Highest approval ratings and most impressive governing achievements of any current governor in the hunt; notable support from African-American voters and other traditionally Democratic constituencies in his 2014 re-election; presidential campaign experience from his short-lived 2000 bid; federal budget and national security experience from his time as a congressman; polling strength versus Hillary Clinton in his home (and arguably the most important swing) state; a fearlessness about the process; a strong Anglican faith; blue-collar upbringing and credibility; a disarming manner; a firm belief that he is ready to be president from day one.
What he lacks: National and early-state polling strength; substantial national political or fundraising operations; robust enthusiasm, or even visible support, of any slice of the Republican base; confidence of the politico-media culture that he can live down his reputation as a man in a hurry or overcome his gnat-like attention span; a clear path to the nomination.
Biggest question mark: Can he overcome his late start to churn the virtuous cycle: higher poll numbers leading to better fundraising leading to more favorable news coverage leading to higher poll numbers leading to better fundraising, etc.
Message: "It's time for a new day for America." 
Core constituencies: Ohioans, moderates, blue-collar voters.
Signature issues: Budget-balancing, tax-cutting, penal reform, uniting and not dividing.
Fundraising mojo: Raised over $20 million for his re-election campaign, but needs to prove he can compete with his rivals for big checks and bundlers. No record as a fierce low-dollar e-raiser. Two 527 committees supporting Kasich raised around $11.5 million in two months, suggesting the possibility that he could be a soft money player if he enjoys polling success.
Spouse and family: Personable wife Karen is Ohio's active first lady, championing education programs, heart health, sensible eating habits, and the arts; twin 15-year-old daughters Emma and Reese were active during their dad's re-election campaign, including writing blog posts. His parents' death in a collision with a drunk driver in 1987, when Kasich was 35, was a formative experience, bringing him back to Christianity after a period of drift away from faith. 
Perceived electability as GOP nominee: With his Ohio strength, Pennsylvania roots, blue-collar cred, and non-divisive rhetoric and record, might be his party's most potent general-election standard-bearer.
National-security credentials: Did extensive work in Congress on Pentagon and security matters, and retains a broad knowledge of foreign affairs and the international stage, but has been out of the game as a participant for some time.
Television skills: Having hosted his own program on Fox News for seven years, considerable experience and savvy in front of a camera; can come across as charming, enthusiastic, and guileless on the small screen; but despite his newfound message discipline, can also sometimes be snappish or chase verbal rabbits down holes to no good effect if he gets a question he doesn't like—or one that intrigues him.
Social media/online chops: Leaves much to be desired with a small following of 75k on Twitter and only slightly more Facebook at 110K; much of his social media presence is devoted to blasting out statements and updates about TV appearances; hasn't established much of an online brand.
Media coverage: Has longstanding relationships with most of the country's top political reporters and gets along well with the Ohio media. Gives lots of access en route to winning largely positive and lengthy profiles. Negative elements focus on his attention-deficit issues and occasionally peevish behavior in public (and private); conservative media tends to fixates on his myriad apostasies.
Polling strength: Still not registering above the bare minimum nationally or in key states, but one June poll put him seven points ahead of Clinton in Ohio, which turned many heads. 
The Big Mo: His press clips and elite buzz are likely to outpace his operation's hard-dollar success in the short term, as he busily campaigns somewhat at the expense of an aggressive fundraising schedule. No known grassroots mojo. Late start requires him to go from slow burn to sprint in a big hurry.
Fire in the belly: Competitive zeal and confidence he is the best person for the job are tempered by his zigzag rhetoric and statements that he would be supremely happy simply retaining dad, husband, and governor as his only titles 
The hang test: Except for the occasional confrontation—with donors and pols more often than voters—is typically smooth, solicitous, fun, and funny on the trail.
Challenges party orthodoxy: Accepted Medicaid expansion for his state under the Affordable Care Act; favors a path to legal status, and is open to a path to citizenship, for those in the U.S. illegally; supports Common Core; more interested in finding shared ground than going to the mattresses against Democrats.
Best moments of 2016 cycle so far: Stole the show—and delivered a smackdown to Wisconsin Governor Scott Walker—at the Republican Governors Association fall meeting in Boca Raton, Florida, last November.
Worst moment of 2016 cycle so far: Was said to fight with a donor about Medicaid at a Koch-sponsored event, leading to a walkout.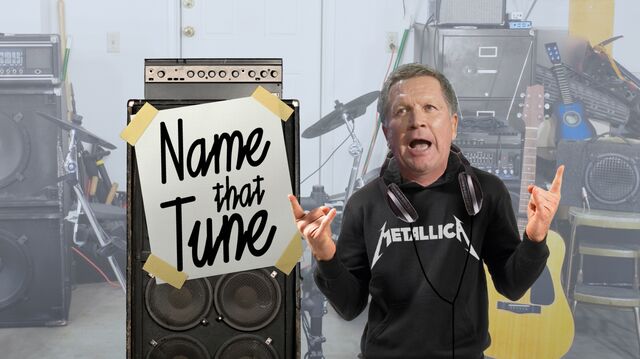 Best Bloomberg Politics moment: Showing off his rock-fan chops while gamely playing along on With All Due Respect's incarnation of "Name That Tune."
Picture he doesn't want you to see: Anything evoking memories of his tenure at Lehman Brothers office in Ohio, where he worked from 2001 through the firm's implosion (along with much of the financial sector) in 2008.