Proposal to Remove Mississippi State Flag from U.S. Capitol on Hold
A Democrat takes issue with the Confederate battle emblem that appears on his state's official flag.
By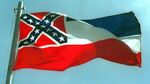 The Republican who heads the congressional committee considering a measure to remove the Mississippi state flag from the House side of the U.S. Capitol says she wants to hear from the Mississippi legislature—which does not convene until 2016.
The resolution to remove the Mississippi flag, which exhibits in an upper corner the emblem of the Confederate battle flag, was offered by Representative Bennie Thompson, a Democrat from Mississippi.
"Without a doubt, the unprecedented step of removing a state flag from our nation's Capitol would be a most serious act and something which requires thoughtful deliberation and input from all parties, especially from those whose flag is being debated for removal," writes Committee on House Administration Chair Candice Miller of Michigan in a letter Tuesday to Democrats.
"I would also like to hear from elected leaders at Mississippi's state level," Miller goes on to write.
"The Mississippi legislature is scheduled to convene in 2016, and state lawmakers have said they plan to address the issue at that time," Miller states. The legislature is set to meet again on January 5.
A committee spokeswoman did not respond to a question about whether that, in fact, means that Miller will withhold any committee action until 2016.
Thompson, the only African-American member of the state's congressional delegation, said in floor remarks introducing the measure last month he's lived his entire life in that state, and is convinced "that an effort to remove this flag from the hallowed halls of the House of Representatives is the right thing to do."
There was no immediate response from Thompson's office.