Obama Likens Iran Deal Critics to Backers of Iraq Invasion
Justin Sink and Angela Greiling Keane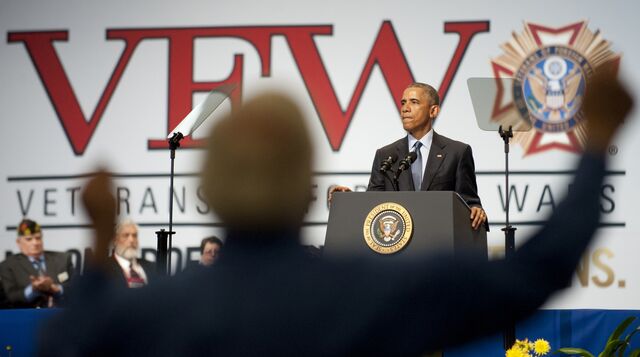 President Barack Obama defended the deal the U.S. and other world powers struck with Iran on its nuclear program and said many critics of the agreement are the same people who rushed to support going to war in Iraq.
In a speech to the Veterans of Foreign Wars in Pittsburgh Tuesday, Obama said a core component of American leadership in the world must be exhausting every diplomatic or economic avenue before committing U.S. troops to another armed conflict.
"Sending our sons and daughters into harm's way should always be a last resort," Obama said in an address to the group's annual convention. "That is strength and that is American leadership."
Obama faces a hard sell of the Iran agreement to Congress, where most Republican lawmakers -- and some Democrats -- have expressed skepticism if not outright opposition. Tuesday's speech was part of an administration campaign that also includes briefings for lawmakers and engaging the public through speeches, appearances and social media.
Secretary of State John Kerry, Energy Secretary Ernest Moniz and other top officials are heading to the Capitol on Wednesday to brief House and Senate lawmakers on the details of the agreement. They are scheduled to testify at a Senate hearing on Thursday.
Public Outreach
The White House also is using social media and outlets outside traditional news media to send its message.
The White House set up a new Twitter account, @TheIranDeal, to present graphics and links to information as well as answer questions from the public. After his speech to the VFW, Obama flew to New York to record an interview on Comedy Central's "Daily Show," where the Iran agreement was a central topic. The program reaches a mostly young audience of more than 1 million viewers.
Congress has 60 days to review the accord struck by the U.S. and five other world powers with Iran on July 14. If lawmakers pass a resolution of disapproval, Obama can veto it.
Administration officials have expressed confidence that enough Democrats would back the president to sustain a veto, which would stand unless two-thirds of Congress voted to override it.
Congressional Opponents
House Majority Leader Kevin McCarthy disagreed, saying opposition to the Iran deal will intensify the longer the accord is examined.
"I don't believe a veto-proof majority is out of reach," the California Republican told reporters.
Obama said the U.S. retains the option of a military strike if Iran cheats. Even so, he said, for too long the first instinct of the country's leadership was to send in the military whenever the U.S. faced a challenge.
"We learned painfully where that kind of thinking can lead," he said. "Instead of chest-beating that rejects even the idea of talking to our adversaries, which sometimes sounds good in sound bites but accomplishes nothing, we're seeing that strong and principled diplomacy can give hope of actually resolving a problem peacefully."
During his "Daily Show" appearance, Obama again tweaked critics, saying they are "chest thumping" and probably think that "everything would be fine" if former Vice President Dick Cheney, a major proponent of the Iraq invasion, had been at the negotiations.
Strategic Talks
He compared the negotiations with Iran to the strategic arms talks with the Soviet Union that led to treaties reducing missile stockpiles in both countries.
"That posed a much greater threat, and we actually had to give something up," Obama told show host Jon Stewart. "In this situation, we're not giving anything up."
Obama touched on other topics in both sets of remarks. Speaking to the VFW, Obama also ripped congressional Republicans for what he called "mindless" budget cuts that threaten military readiness, hurt veterans' programs and put at risk U.S. economic strength.
He urged Republicans to work with Democratic lawmakers to end the budget sequestration process that was part of a deal he made with Congress in 2011 to end a deadlock over spending.
"The reckless budget cuts that are going on under the name of sequestration in Washington, that's not the way to keep our armed forces ready," he said.
VA Changes
Obama also told the veterans' group that the work being done to improve the Department of Veterans Affairs still isn't completed a year after revelations of long wait times and inadequate care at its health facilities.
"We have to acknowledge our work is not done; we still have a big challenge," Obama said. "The VA is still struggling to keep up with a surge of veterans seeking care."
Obama, who replaced the VA secretary last year, said the agency faces new challenges because of both aging veterans from earlier wars and a surge in younger veterans seeking care.
House Speaker John Boehner, an Ohio Republican, said Obama still hasn't put in place solid management at the VA, which provides health care for veterans.
"One out of every three veterans waiting for care at the VA has already died, and President Obama still doesn't have a plan to change the culture at the VA," Cory Fritz, a Boehner spokesman, said in an e-mail.
In conjunction with the VFW appearance, the administration announced final rules extending limits on the rates that can be charged for some loans to members of the armed forces, taking aim at what the White House says are predatory lenders who target the military.
Before it's here, it's on the Bloomberg Terminal.
LEARN MORE