Michigan Review Finds Financial Emergency in Wayne County
Elizabeth Campbell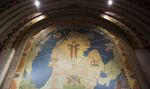 A Michigan panel has determined that Wayne County is in the midst of a financial emergency, putting the home of Detroit a step closer toward state oversight.
The team that's reviewing Wayne's finances found that the county has been squeezed by budget shortfalls as it underestimated how much it would spend over the past three years, according to an e-mailed statement Tuesday from Michigan's Treasury Department.
"A declaration of a financial emergency will provide the elected officials of Wayne County the opportunity to decide the best path forward," County Executive Warren Evans said in an e-mailed statement after the report's release.
Governor Rick Snyder, who appointed the review team July 2, has 10 days to determine whether to declare a financial emergency. Evans last month asked the state to do so. The spiraling finances have prompted officials to put the county's headquarters, a historic landmark in downtown Detroit, up for sale.
Once a financial emergency is declared, county officials can choose among four options: a state-appointed emergency manager, a consent agreement with the state, mediation, or Chapter 9 bankruptcy.
Evans has said that he wants a consent agreement to facilitate negotiations with the county's stakeholders, including 11 unions that are without contracts.
'Financial Armageddon'
Wayne isn't an exception in Michigan. Three municipalities and two school districts operate under a consent agreement, according to the state Department of Treasury.
The county's property taxes, its largest source of operating revenue, have fallen more than 20 percent since 2007, while spending has climbed by 5 percent, according to Moody's Investors Service. The ratings company dropped the county to a junk-bond rating in February after Evans warned of a "financial Armageddon."
Moody's, which rates the county Ba3, three steps below investment grade with a negative outlook, called the county's efforts to address its deficit through spending cuts and state help "credit positive" in a July 16 report.