John Kasich's Economic Plan Hinges on Growth in Business
The former House Budget Committee chairman helped produce the nation's last balanced federal budget.
By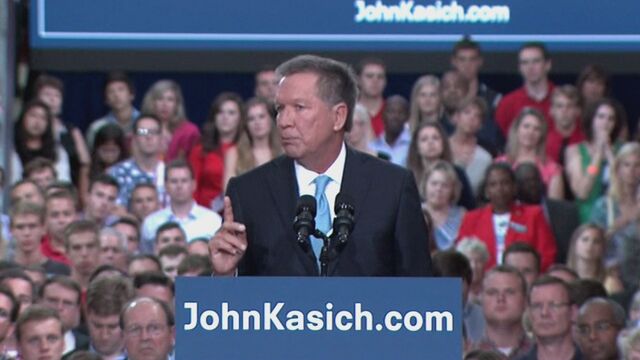 Ohio Governor John Kasich's prescription for torpid economic growth and wages focuses on increasing business investment and lowering taxes.
Kasich, the two-term Republican governor who announced his presidential bid Tuesday, also wants to return U.S. corporate profits from overseas in what he has said would be "the biggest stimulus program we could have."
"What I'm going to focus on is the business investment," Kasich said in a July 8 interview in South Carolina. "This is the single biggest thing, in my judgment, that would help us to overcome wage stagnation."
Kasich, 63, hasn't produced a detailed plan and declined to name the economists with whom he consults or who would advise him. He mentioned previously speaking with Larry Kudlow of CNBC, however, and Heritage Foundation visiting fellow Stephen Moore came to Ohio on May 19 to testify on behalf of Kasich's plan to lower income-tax rates by raising levies on sales and other consumption.
A former member of Congress who as chairman of the House Budget Committee at the end of the 1990s helped produce the nation's last balanced federal budget, Kasich has talked in general terms of policies he would pursue. They start with moving back toward a balanced budget. He said that would give businesses confidence to invest.

Kasich said he would change expensing and depreciation to spur spending on factories and equipment. He said that will help workers be more productive and improve wages. He also has said he'll have a plan to repatriate U.S. profits.
"We should be growing so much faster than this, which is what creates the jobs," Kasich said during a July 8 speech in Bluffton, South Carolina. "If you don't have economic growth, nothing else works."
Wages still haven't fully recovered from the greatest economic downturn since the Great Depression. Median U.S. household income increased to $55,192 in May, yet still remained $1,265 below the December 2007 mark at the beginning of the recession, according to inflation-adjusted estimates by Sentier Research in Annapolis, Maryland.
Nonresidential business fixed investment has increased just 8.05 percent in the seven years since it peaked in the first quarter of 2008. That compares with an increase of 19.45 percent at this point in the last recovery, according to Tim Quinlan, an economist with Wells Fargo Securities in Charlotte, North Carolina.
Kasich talks often about the need for a lower income tax and even vowed to eliminate Ohio's when he ran for governor in 2010. Kasich cut taxes in his last two budgets with the ultimate goal of phasing out the state income tax, a goal he has not yet reached.
He previously has said he favors reducing the corporate tax rate and has spoken with Steve Forbes, the publisher and a former Republican presidential candidate, about his flat tax plan.
Ohio has recovered all the private jobs it lost from the recession and ranks 12th among states in economic health from the fourth quarter of 2010, before Kasich took office, through the same period last year, according to the Bloomberg Economic Evaluation of States.
"He has an impressive fiscal and economic record, and that's the case for Kasich," said Moore, who helped start the Committee to Unleash Prosperity this year with Kudlow, Forbes, and economist Arthur Laffer. "He can say, 'If I can turn around Ohio, I can turn around America.'"
While other Republican candidates are also discussing economic growth and lower taxes, Kasich is the only one emphasizing increased business investment, said Douglas Holtz-Eakin, an economist who has advised Republican candidates and now serves as president of the "center-right" American Action Forum policy institute in Washington.
Holtz-Eakin said such investment is one of the quickest ways to stimulate growth, and the lack of company spending compared with other recoveries has been a hindrance.
"He's got the diagnosis right," Holtz-Eakin said.
For economic conservatives, Moore said, one "Achilles-heel issue" for Kasich is his decision to expand Medicaid under President Barack Obama's health-care overhaul, which many fiscal conservatives oppose.
An economist who once headed the Club for Growth, an organization that is dogmatic about cutting taxes and the size of government, Moore said he's not satisfied by the explanation Kasich has offered for cooperating with the president's health care program.
"He's got to come up with an answer that is better than, 'I like poor people, I want to help poor people,'" said Moore,. "That's not an answer that conservatives are very persuaded by."