Chipotle Sales Trail Estimates as Higher Prices Slow Growth
Craig Giammona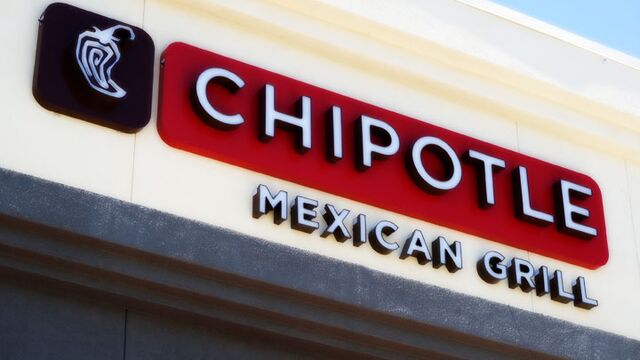 Chipotle Mexican Grill Inc. posted second-quarter sales that trailed analysts' estimates, a sign its supply shortages and price increases are putting a damper on growth.
Revenue in the quarter rose 14 percent to $1.2 billion, the Denver-based company said Tuesday in a statement. Analysts estimated $1.22 billion. Chipotle shares dropped when the results were released, then rebounded after the company announced a share buyback and said sales trends this month were positive.
Chipotle raised prices last year to offset higher beef costs and has been grappling with a pork shortage that's limited the supply of its popular carnitas filling. Sales at restaurants open at least 13 months rose 4.3 percent in the quarter, following a 10 percent gain last quarter and trailing analysts' 5.8 percent average estimate.
"They're a victim of their own success," said Jason Moser, an analyst at the Motley Fool. "They typically bring in such great numbers that they continually raise the bar."
Comparable-store sales have gained at a low single-digit percentage so far this month, Chief Financial Officer Jack Hartung said on a conference call. Chipotle also said Tuesday that its board added $100 million to its share buyback program.
The shares were up 1.3 percent to $681.61 at 6:06 p.m. in late trading after earlier plunging as much as 10 percent.
Profit Rises
Second-quarter net income increased 27 percent to $140.2 million, or $4.45 a share, from $110.3 million, or $3.50, a year earlier. Analysts estimated $4.43 a share.
Chipotle is adding new restaurants at a faster clip to help boost sales. The company said Tuesday that openings will be at the high end of its projected range of 190 to 205 locations this year, or even exceed that estimate. That would bring its base to more than 2,000 restaurants.
Chipotle said in April that its higher prices still weren't enough to cover the cost of beef used for its steak and barbacoa burritos and that it was considering raising prices again this year. In addition, Chipotle is paying more for its tortillas as it switches to flour that's organic, unbleached and unenriched.
Meanwhile, the company held off on raising prices for steak and barbacoa in the approximately 40 percent of its restaurants where it doesn't have carnitas. Hartung said the company will raise prices at those locations as it resupplies pork, which it expects to have completed by the end of the year.
'Unintended Consequence'
"We wanted to avoid the unintended consequence of having customers trade from carnitas to steak and barbacoa and be forced to pay more for their meals," he said.
The company has been trying to boost its supply since January, when it suspended a pork supplier for not meeting its pig-housing standards. As a result, the company pulled carnitas from about a third of its restaurants. Chipotle recently added a British pork supplier, allowing it to add carnitas back to the menu at its more than 100 locations in Florida.
Chipotle said it recently began testing chorizo in the Kansas City area and will expand the product if it proves to attract new customers to the chain, as opposed to providing another option for regular customers switching from chicken or steak burritos.
As part of its effort to tout its ingredients, Chipotle debuted a new game on its website that allows customers to compare and contrast ingredients used by Chipotle with those found in traditional fast food.