Chicago Machine Causing Illinois Budget Impasse, Rauner Says
Tim Jones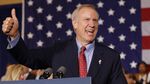 With Illinois approaching a month without a budget, Republican Governor Bruce Rauner placed the sole blame on the longtime Chicago Democratic powerbroker, House Speaker Michael Madigan.
"This is about the Chicago machine and Madigan's power, versus the people of Illinois," the first-term governor said in Springfield at a news conference he called on Tuesday.
As the House returned to session, there were no indications of a possible deal for the fiscal year that began July 1. Rauner is insisting on changes to taxes and business regulations as a condition for his support of revenue increases that Democrats say are needed to close a $6.2 billion deficit.
Madigan called Rauner's comments "regretful."
"I don't think it helps what we're trying to do," Madigan told reporters Tuesday.
The Democratic-controlled Senate sent a one-month budget to the governor last week. Rauner called it "baloney" and hasn't signed it.
Madigan said the governor should sign the temporary budget and move away from "diversions."
While state employees continue to receive paychecks, the Illinois Supreme Court has yet to rule on the legality of paying salaries without a budget in place.