Apple CFO Says 'Very Confident' in China After Market Turmoil
Tim Higgins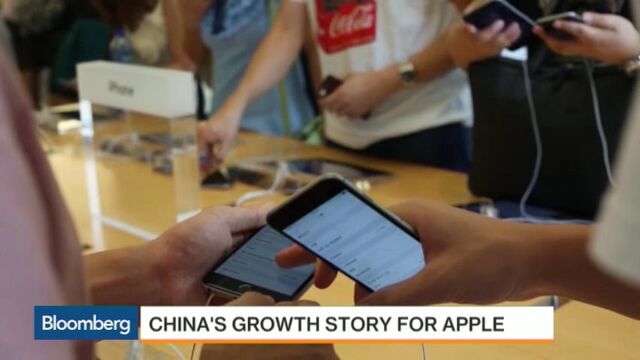 Apple Inc., which saw revenue more than double in greater China during the past quarter, said it remains confident in the country after turmoil in the stock market there this month.
"There's been bit of volatility in the equities markets, but we think that's a relatively small portion of the Chinese economy," Luca Maestri, Apple's chief financial officer, said an interview on Tuesday. "When we look at the macro conditions in China, we couldn't be more positive."
Still, there were signs in the latest quarter that iPhone sales may have peaked, after Apple said it sold a total of 47.5 million units, missing analysts' projections for 48.8 million shipments. While China sales of iPhones exceeded those in the U.S. for the first time ever in the first three months of the year, which includes Chinese New Year, the Americas region had "significantly higher" results than China in the period ending in June, Maestri said.
"We remain very confident" in China, Maestri said. Sales of the iPhone rose 87 percent in greater China last quarter, he added.
Revenue in China rose to $13.2 billion in the fiscal third quarter, which ended in June, from $6.23 billion a year earlier. Sales in the Americas region rose 15 percent to $20.2 billion, the Cupertino, California-based company said in a statement.
Chief Executive Officer Tim Cook has said he expects China to eventually become Apple's largest market, and the company is rushing to double the number of retail stores the country by the middle of next year.
Chinese Market
The success of the iPhone in China has helped increase the average price of smartphones in the country, according to research firm IDC. Prices rose to $263 in the first quarter of 2015 from $192 in the third quarter of 2014.
UBS research shows "that Apple is penetrating China at multiple income bands, consumers are upgrading to more expensive phones, and Apple has the highest brand commitment level," analyst Steven Milunovich wrote in a note to investors. "Checks indicate that somewhat counterintuitively the low-end handset market is softer than the high end as consumers trade up."
The current quarter could pose challenges for Apple sales in China following a decline in the Chinese stock market earlier this month that rattled confidence in the country's economic stability, according to Matthew Kanterman, a Bloomberg Intelligence analyst.
"The sharp selloff in Chinese stocks could weigh on Apple's fiscal 4Q sales forecast, assuming consumer confidence and spending in the region are affected by economic weakness," he said in a note.
Apple's lower-than-projected iPhone shipments and a forecast for fiscal fourth-quarter revenue that was less than analysts' average estimate triggered a decline in Apple shares and the stocks of its suppliers, including Avago Technologies Ltd., Broadcom Corp. and Qualcomm Inc.