Wanted: Pilots to Fly Looming $5.6 Trillion Jet-Order Surge
Julie Johnsson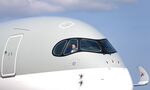 Airlines across the globe will need to hire 558,000 new pilots over the next two decades to keep pace with surging travel demand and a $5.6 trillion jet shopping spree, according to a Boeing Co. forecast.
That works out to about 28,000 new aviators a year, Boeing Flight Services Vice President Sherry Carbary said.
Asia-Pacific countries probably will account for about 40 percent of the total, Boeing said Monday in its annual pilot and technician outlook. While a growing middle class is poised to send the region past North America as the top aircraft market, carriers in China and elsewhere may have to work hard to fill vacancies because private pilots are much rarer than in the U.S.
"People have grown up without little airplanes flying overhead," Carbary told reporters on a conference call. The challenge for recruiters: "How do you get that population excited by aviation?"
Boeing's latest forecast projected a need for 4 percent more pilots than in its 2014 assessment. Demand only declined in one region, Russia and the Commonwealth of Independent States.
Airlines there will need 17,000 pilots over two decades, about 1,000 less than Boeing's 2014 estimate. With Russia's economy slumping, Carbary said, "we don't anticipate as many airplanes going into that market as we saw last year."
Boeing was little changed at $146.72 at the close in New York. The stock has risen 13 percent this year, beating the 3.4 percent gain for the Standard & Poor's 500 Index.