U.S.-Cuba Relations Restored With Signs of Conflicts Still Ahead
Nicole Gaouette and Ezra Fieser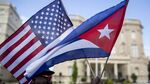 President Barack Obama is likely to nominate an ambassador to Cuba, his spokesman said, guaranteeing a confrontation with U.S. lawmakers who have denounced the restoration of diplomatic ties with Havana.
Those relations moved a major step forward on Monday, as embassies in Washington and Havana reopened after a diplomatic freeze that lasted more than five decades.
White House press secretary Josh Earnest told reporters that he expected Obama would nominate an ambassador to Cuba before leaving office, adding "I don't know who that would be, I don't know what the time frame would be."
The prediction underscored the unresolved issues that resurfaced hours after the Cuban flag was raised over a mansion in Washington amid chants of celebration. The ceremony was led by Cuban Foreign Minister Bruno Rodriguez. U.S. Secretary of State John Kerry said he will visit Havana for a delayed flag-raising ceremony at his country's embassy on Aug. 14.
"This milestone does not signify an end to the many differences that still separate our governments," Kerry said later at a State Department news conference alongside Rodriguez. "We are sure to encounter bumps here and there, and moments of frustration. Patience will be required. But that is all the more reason to get started now on this journey."
Among the obstacles are members of Congress opposed to dealing with Cuba's communist regime. They have vowed to block any move to end the long-standing embargo against most trade with Cuba and to prevent Obama from sending a full-fledged ambassador.
'Despotic Regime'
"Cuba is not just some small island with old cars; it is a country controlled by a despotic regime that provides a safe haven and base of forward operations to Russia and China in our own hemisphere," Senator Marco Rubio of Florida, a Republican presidential candidate, said in a statement Monday.
"I reiterate my promise to block the confirmation of any ambassador to this despicable regime," said Rubio, the son of Cuban immigrants.
For now, Jeffrey DeLaurentis, a career foreign service officer who becomes interim charge d'affaires, will be the top U.S. diplomat on the island.
Future points of friction also were clear from the Cuban side. Rodriguez said that before Havana could agree to fully normalized relations, the U.S. must return the military base at Guantanamo to Cuba.
Keeping Guantanamo
Kerry responded that the U.S. had "no intent" to change the terms of the lease on Guantanamo.
"We understand that Cuba has strong feelings about it," Kerry said. "For the moment, that is not part of the discussion."
Rodriguez also said the U.S. trade embargo must be lifted, and Kerry emphasized that Obama has called on Congress to remove it.
"End the Embargo now" was among signs carried in a block-long crowd that gathered to sing the Cuban national anthem as the country's flag was raised outside the re-annointed embassy in Washington on Monday.
Amid those celebrating, a slight man in a crisp white shirt held a sign that said "Freedom for political prisoners."
Carlos Casanova, 81, said he had tried to overthrow former President Fidel Castro in 1959 and spent the next 20 years imprisoned in Cuba as a result. Bitter about Monday's events, he said, "You give communists a finger, they'll take your hand."
Inside the State Department's headquarters, the Cuban flag was hung before dawn among the flags of nations that have diplomatic relations with the U.S.
Barriers Tumble
Barriers between the U.S. and Cuba have tumbled rapidly since President Raul Castro and Obama announced their intentions to renew ties in simultaneous speeches in December. Yet while companies from JetBlue Airways Corp. to Airbnb Inc. have sought to capitalize on the improving relationship, the trade embargo and enduring differences limit business and personal contacts.
Charles Barclay, who served as deputy chief of mission for the U.S. Interests Section in Havana from 2009 to 2012, said he expects U.S. diplomats to have more access to Cuban government officials and greater freedom to roam the country, instead of being confined to Havana.
The move has political benefits to both leaders, he added, as Castro seeks to improve the country's image for investors and Obama ends what he has described as a "failed policy" for the U.S.
"I don't know how much momentum this creates for more progress, but I wouldn't downplay the significance of the symbolism here," Barclay said of the embassy openings.