Lockheed to Buy Sikorsky for $9 Billion, Review Unit Sales
Julie Johnsson and Richard Clough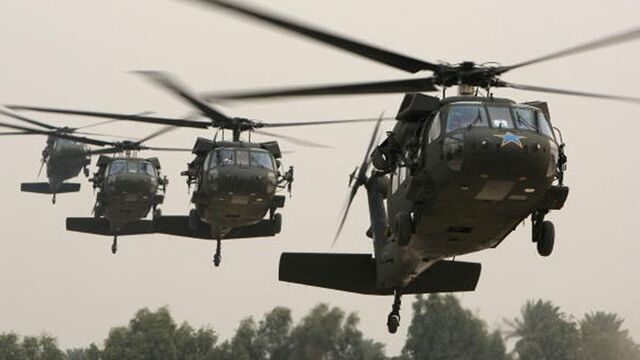 Lockheed Martin Corp. agreed to buy United Technologies Corp.'s Sikorsky helicopter unit for $9 billion and said it expects to divest its government information systems division via a sale or spinoff.
The Sikorsky purchase, the first strategic shift under Chief Executive Officer Marillyn Hewson since she became CEO in 2013, will let Lockheed branch into the $30 billion rotorcraft market. It's the largest aerospace acquisition since 2012, when United Technologies bought Goodrich Corp. for more than $16 billion.
"They're paying a lot for it, but it's a very good property," Richard Aboulafia, an aerospace and defense analyst at consultant Teal Group, said in a phone interview. "Traditional defense platforms look really good right now."
A strategic review of five information-technology and services businesses including air traffic management and commercial cybersecurity is the first step toward exiting those operations, according to Lockheed, whose warplanes and transports make it the top supplier of U.S. military aircraft.
The technology and service programs account for about $6 billion in estimated 2015 sales with a "mid-7 percent margin," Lockheed said, without giving a timeline on when they might be shed.
Lockheed was little changed at $201.26 at 9:33 a.m. in New York, while United Technologies fell 0.8 percent to $109.86.
United Technologies
Unloading Sikorsky caps an assessment begun at United Technologies after Gregory Hayes was named CEO in November, with a sale and spinoff publicly discussed for months. Hayes will be able to focus on making jet engines, elevators and air conditioners and leave the very different business of producing military and civilian rotary-wing aircraft.
United Technologies said it would discuss the deal on Tuesday after the scheduled release of second-quarter earnings. Buoyed by cash from Sikorsky, directors approved a plan to buy back as many as 75 million shares, or about $8.3 billion based on July 17's closing price.
Lockheed said tax benefits from the transaction will reduce the effective price of Sikorsky to $7.1 billion. The purchase should close this year or in early 2016, and will have "no impact" on a pledge to return cash to shareholders via dividends and cut the outstanding share count to fewer than 300 million by the end of 2017, Lockheed said.
Quarterly Earnings
As part of Monday's announcement, Lockheed accelerated its second-quarter financial report by a day. Profit of $2.94 a share beat analysts' average estimate of $2.67, and the $11.6 billion in sales topped the consensus projection of $11 billion.
In divesting the Information Systems & Global Solutions business, Lockheed would sever ties with the largest government information-technology contractor. Despite growing demand for cybersecurity services, the unit has struggled in recent years amid pressure from Silicon Valley firms. In the past five years, annual sales in the division fell 21 percent to $7.8 billion and operating income declined 14 percent to $699 million.
As recently as 2014, Hewson said the unit was helping Lockheed broaden its commercial sales amid increasing demand for cybersecurity products and services from industries such as banking, health care and energy.
Sikorsky is the biggest purchase that Lockheed has attempted since a failed $11.6 billion stock-and-debt bid for Northrop Grumman Corp. announced in 1997, according to data compiled by Bloomberg. Bethesda, Maryland-based Lockheed itself was formed in the $10 billion merger between Lockheed Corp. and Martin Marietta Corp. in 1995.
Defense Dependence
Sikorsky's products include the Black Hawk helicopter -- an iconic symbol of U.S. military might -- and the VIP craft used to carry U.S. presidents and other dignitaries. The division generates about two-thirds of sales from U.S. defense contracts.
For civilian uses, Sikorsky rotorcraft also are favorites in the oil-and-gas industry, where demand has been crimped as the rout in global crude market curbs exploration and production requiring offshore trips.
Sikorsky's performance has lagged other United Technologies divisions for years. Last year's sales of $7.45 billion produced $219 million in operating income, for an operating margin of 2.9 percent. The Otis Elevator division, the next-largest business, had $13 billion in sales and a 20 percent operating margin.
"We view the selling of Sikorsky as a positive first step in UTX's portfolio transformation," Peter Arment, a Sterne Agee CRT analyst, said in a note to clients.
Lockheed's signature aircraft include the C-130 Hercules transport and combat jets such as the F-35 Lightning and F-16 Fighting Falcon. It teamed with Sikorsky to win Air Force combat-rescue and presidential helicopter contracts last year, and a follow-on award to support Navy helicopters in February.