Lindsey Graham and His Two Amigos Kick Off 'No Nukes for Iran' Tour
Joined by Joe Lieberman and Senator John McCain, the South Carolina senator takes aim at the president's nuclear deal with Tehran.
By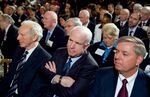 The amigos are back for a sequel.
For more than 10 years, Senators Lindsey Graham of South Carolina, John McCain of Arizona, and Joseph Lieberman of Connecticut traveled together —from Iraq to Afghanistan, Germany to Bhutan. Dubbed the "three amigos" by General David Petraeus, together they helped shape American foreign policy, and on Monday they reunited to try and do so again. 
Graham, who now is running for president, brought along Lieberman (who is no longer in Congress), and McCain, two hawkish confrères who both have had their time on national tickets, to help bolster his own bid and quash President Obama's deal with Iran. 
Sitting between his two old friends beneath gold curtains and crystal chandeliers, a sign behind the amigos declared "No Nukes for Iran," the name of a multi-state tour headlined by the Republican candidate.  
Graham articulated his strong objection to the deal made by world leaders last week in Vienna that would grant Tehran relief from international sanctions in exchange for Iran's curbing its nuclear program. "I believe with all my heart and soul that Iran wants a nuclear weapon—a nuclear power plant—and that they'll get them if somebody doesn't stop them," the South Carolina senator said. "The last line of defense is the United States Congress and the power of the next president to protect us and the world at large."
He was speaking in the ballroom of Manhattan's Women's National Republican Club, whose grand staircase features a vaguely seductive portrait of woman labeled only "Mrs. Ronald Reagan."
The stated aim of Graham's tour, which will last for sixty days, is to urge members of Congress to vote against a "bad deal" by a president he has called "incompetent." (Congress has a 60-day period to review the deal before it comes to a vote.) Of course, the national exposure can't hurt his long-shot quest to win his party's presidential nomination. 
The tour will take him to states including Minnesota, Massachusetts, Indiana, Colorado, Florida, Pennsylvania, and Nevada. But Graham launched it in New York, he told his enthusiastic audience, because it is "the most diverse city on the planet," a city that "represents America." Graham also conjured the terrorist attacks on 9/11, saying, "this is the place they would choose to hit us if they could."
Graham stressed that he did not want to see war, and he reiterated a belief that he has stated before, that, were she president, Hillary Clinton could have struck up a better deal. ("I want to say something bipartisan," he prefaced.) He also spoke positively of the strength and vigor of Senator Chuck Schumer, a Democrat of New York. 
But also Graham reminded the audience that this year marked the anniversary of the end of World War II, and portrayed Obama's deal as a threat to the Jewish state of Israel. "Seventy years ago this year we liberated the camps," he said, adding, "To our friends in Israel, I join you in saying never again. To the American people I say, I will make sure that there is never another 9/11." Later, he warned, "Don't put Israel in this box. Don't make it feel that she—that Israel—has to go it alone."
An observant Jew, Lieberman is himself a major proponent of Israel, and called the vote on whether to approve the Iran deal "the most important opinion that any member of congress will ever cast."
"This is a mortal threat to our values," Lieberman argued. 
Both Graham and Lieberman also took jabs at real estate magnate Donald Trump over his ongoing feud with McCain over the question of the latter's heroism as a prisoner of war in Vietnam. "Anybody that suggests that John McCain and his fellow prisoners of war are somehow lacking in the title of being called 'American hero,' you shouldn't be our commander-in-chief because you don't know our military," Graham said.
Referring to Trump by name, Lieberman called his remarks "un-American," as McCain looked down modestly as the crowd clapped.
This was a way to defend their friend, but also for one candidate to criticize a rival. The campaigning continued when both Lieberman and McCain articulated what a good president Graham might be, and then both exited and left the stage to their friend to answer questions. 
During the Q&A, Graham repeatedly spoke of the need for a president who could "leverage to get a better deal."
"Do you think these four hostages would still be in Iran if Ronald Reagan were president?" Graham asked. 
And then, with barely a pause, he answered, "I don't think so either."
CORRECTION: An earlier version of this story misspelled David Petraeus' last name.