Israel, U.S. Defense Chiefs Visit a Mountain to Soften Iran Feud
David Lerman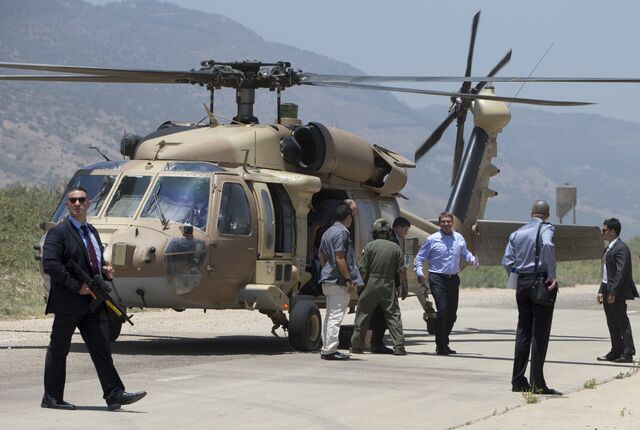 With their nations sharply at odds over the Iran nuclear deal, the U.S. and Israeli defense chiefs traveled to a mountaintop near Israel's border with Lebanon to underscore instead their joint commitment to border security.
The visit to Hussein Lookout, near the town of Kiryat Shmona in northern Israel, served partly to change the topic by showcasing what both men described as a steadfast U.S. commitment to Israel's security.
"We've been with you from the beginning of your state and we always will be," U.S. Defense Secretary Ashton Carter said at a joint news conference in Tel Aviv Monday with his Israeli counterpart, Moshe Ya'alon. "Israel is a cornerstone of our strategy in the Middle East."
Ya'alon returned the favor, calling Carter "someone who makes Israel's security a top priority."
On his first trip to Israel as Pentagon chief, Carter said his visit to the lookout site was an opportunity "to see firsthand especially the missile threat, the rocket threat" that Israel faces on its northern border from the Iran-backed Hezbollah militia.
The U.S. "will continue to counter Iranian malign influence in this region," he said from the lookout, about a 45-minute helicopter ride from Tel Aviv.
But the two defense chiefs made clear their sharp differences on the Iran deal, which seeks to curb the Tehran regime's nuclear program in exchange for easing economic sanctions.
'Greatly Disagree'
Israel has condemned the deal reached by the U.S. and other world powers with Iran as a threat to its security, while the Obama administration sees it as a way to reduce the risk of Iran obtaining a nuclear weapon.
"We greatly disagree when it comes to an agreement with Iran and fear for the future in the aftermath of its signing," Ya'alon said. "Yet we discuss this issue in a fully open manner alongside many other issues of importance."
Carter stressed that the U.S. retains all military options, even as it seeks to give diplomacy a chance to defuse a nuclear threat from a country the U.S. considers a state sponsor of terrorism.
"Friends can disagree about whether it will work, and we'll be watching Iran very closely to see," Carter said. "But there's no disagreement about the ultimate objective. We cannot let Iran have nuclear weapons."
'Ironclad Commitment'
While their meeting produced no announcements of new weapons deals or U.S. aid for Israel, Carter said the U.S. "will maintain our ironclad commitment to Israel's qualitative military edge," a reference to a U.S. law that requires Israel receive more advanced weaponry than its neighbors in the region.
Israel next year will be the only Middle Eastern country flying the new F-35 Joint Strike Fighter made by Lockheed Martin Corp., Carter said.
"If more is needed in the future, then we'll do more," he said.
Israeli Prime Minister Benjamin Netanyahu has heaped scorn on U.S. efforts to reassure Israel on the Iran deal by dangling promises of more weapons or aid.
"If this deal is supposed to make Israel and our Arab neighbors safer, why should we be compensated with anything?" Netanyahu said Sunday in an interview on ABC's "This Week" program.
Carter, who will meet with Netanyahu Tuesday, rejected that notion.
"We need to increase our security cooperation with Israel not because of the deal, but because of all the other factors we've been talking about," Carter said, including the threat from Iran-backed Hezbollah.
The two defense chiefs said they also discussed "contingency planning" on Syria, which has been locked in a years-long civil war pitting the Assad regime against moderate rebels and forces from Islamic State, which declared a self-styled caliphate in parts of Syria and Iraq.
"We believe that Syria is like an egg which has become omelet," Ya'alon said. "We don't see any chance for unification."
Before it's here, it's on the Bloomberg Terminal.
LEARN MORE