John Kasich Group's Video All But Declares Him a 2016 Presidential Candidate
A short film produced by a 527 supporting the Ohio governor tries to convince voters the crowded Republican field needs one more presidential candidate.
By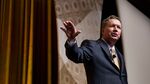 New Day for America, a group supporting John Kasich's bid for the White House, released a five-minute video Sunday about their soon-to-be candidate, highlighting his life story, record in Congress, and executive experience in a must-win swing state.
When Kasich first comes on the screen, the words "Conservative Governor of Ohio" appear beneath his name. By the end, that titled had changed to "PRESIDENT 2016."
An extended version of an ad buy that New Day is running on New Hampshire and Boston-area television, the video is the farthest Kasich's team has gone to declare publicly that he is running for president. He is expected to announce his candidacy at Ohio State University in Columbus on Tuesday morning, followed by stops in New Hampshire, South Carolina, Iowa and Michigan this week. 
"Who is it that has the experience to balance the federal budget, which is very hard to do?" Kasich asks in the video, which begins by flipping through the pictures of every other Republican and Democratic candidate in the presidential race. "Who is it that's had the experience in turning a major state with huge deficits and high unemployment to prosperity? Who is it that spent time, actual time, working on the national security issues. You know, of all those people running, there's not one that has experience in all those critical three areas."
Kasich has been struggling to gain traction on the national stage, consistently getting around 2 percent in national polls. The video addresses head on what may be Kasich's biggest challenge: convincing voters that an unprecedented field of 15 GOP candidates needs one more member. And it signals exactly how Kasich will try to stand out in the coming months. 
"You know, I was one of the chief architects of balancing the budget," Kasich said after the camera panned over framed photos from time in Congress, where he was the chairman of the U.S. House Budget Committee and a member of U.S. House Armed Services Committee. "First time we did it since man walked on the moon. We haven't done it since."
The spot, which is part of the digital component of a seven-figure media buy New Day recently launched, also includes footage of Kasich's time as a Fox News host and touches on the fiscal challenges of his time as governor of Ohio, where he won re-election by a 2-to-1 margin last year.