Gold Plunges to Lowest Since 2010
Eddie van der Walt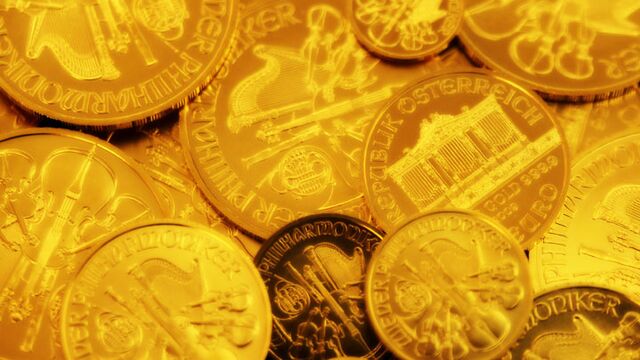 The rout in gold isn't showing any signs of slowing down.
In about 15 minutes during Asian trading hours on Monday, prices fell the most in two years, sliding below key levels watched by investors who use chart patterns to trade. While gold later recovered some of the losses, it's still at a five-year low and headed for a sixth day of declines. Gold for immediate delivery retreated 2 percent to $1,112.04 a ounce at 11:23 a.m. in London.

China, the world's largest consumer of bullion, reported gold reserves on Friday that were smaller than expected. Prices fell below the 2014 low, a level that makes the metal vulnerable to more losses, Georgette Boele, a strategist at ABN Amro Bank NV in Amsterdam, said by e-mail on Monday.
"This sudden drop during Asian trading seemed to have been triggered by some stop-loss selloffs that have nothing to do with fundamentals," Wallace Ng, a trader at Gemsha Metals Co., said from Shanghai.
Gold had the biggest intraday decline in two years, falling 4.2 percent before paring the retreat.
"A key level of technical support broke during a period of thin liquidity, triggering stops when it did," Boele said.
Gold has fallen out of favor as Federal Reserve Chair Janet Yellen prepares to raise rates this year. Money managers are holding the smallest net-bullish bet on gold since the U.S. government data begins in 2006.
China Gold
In the first update since 2009, the People's Bank of China said on Friday that it owns about 1,658 metric tons, implying purchases of 100 tons a year. That's less than brokers at GoldCore Ltd. and Sharps Pixley Ltd. expected.
"The market is in one of its bear phases, where any news is bearish news," said David Baker, Sydney-based managing partner at Baker Steel Capital Managers LLP. He predicted that gold may drop to as low as $1,050 an ounce.
Investors are also dumping silver, platinum and palladium. Combined net-long wagers across the metals are the lowest ever. About $2.1 billion was erased from the value of exchange-traded products tracking the commodities last week, the most since March.
Mining stocks also retreated. AngloGold Ashanti Ltd. declined 5.2 percent. Sibanye Gold Ltd., the biggest producer in South Africa, sank 6.2 percent. The nation's index of gold-mining stocks fell to the lowest since April 2001.
Platinum for immediate delivery dropped 1.6 percent to $978.76 an ounce, set for the lowest close since 2009. Silver slid 0.6 percent to $14.80 an ounce. Palladium retreated 1.3 percent to $607.17 an ounce.
((An earlier version of this story was corrected to insert a decimal point into the platinum price.))
Read this next: