politics
Bernie Sanders Continues to Draw the Biggest Crowds of Any 2016 Candidate
Audiences have been flocking to see the progressive Vermont senator speak.
By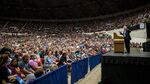 Size matters. 
Democratic presidential candidate Bernie Sanders is still drawing some of largest crowds on the campaign trail, as evidenced by the 11,000 people who turned up to hear the Vermont senator and self-described independent socialist speak at the Phoenix Convention Center on Saturday, according to reports. He had appeared there earlier that day as part of the progressive Netroots Nation convention. The turnout broke Sanders's previous record, some 10,000 at an rally in Madison earlier this month, which was heralded as the largest crowd any 2016 candidate had attracted yet. 
Republican presidential candidate Donald Trump spoke at the very same venue on Saturday, and drew roughly half as many attendees as Sanders did. 
Now, it's possible Sanders is drawing the most attendees because his chief rival, Hillary Clinton, is taking a distinctly different approach, preferring to meet with small groups of people at house parties and intimate sit-downs. That said, Clinton did have some empty space leftover at her official campaign launch event in New York City in June. About 5,500 people showed up, the New York Times reported, citing Clinton's campaign, but the space on Roosevelt Island's Four Freedoms Park could have held more. The Times reported that the area set up for overflow crowd was nearly empty. 
The other Sanders-level crowd of the cycle so far went to Ted Cruz, for his campaign launch, which drew some 11,000 attendees, but there was a catch. Cruz launched his campaign at Liberty University, a Christian school in Virginia. He was the weekly convocation speaker, and attendance was mandatory for students, under penalty of a fine. 
Before it's here, it's on the Bloomberg Terminal.
LEARN MORE