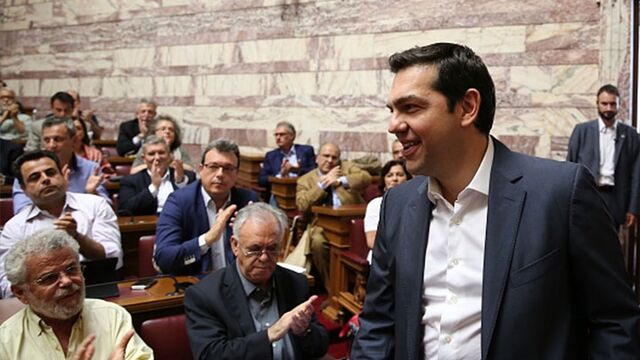 Some time ago University of Chicago economist Luigi Zingales wrote about a "horrifying joke" he heard from his colleagues that asked, "What's the difference between Japan and Greece?" The punchline was "three years." Now, even that seems too long.
The International Monetary Fund's July 14 forecast for Greece's debt as a share of gross domestic product in 2017 was almost 200 percent, up substantially from its April estimate of 151.8 percent.
That also passes through an intermediate forecast of 169.7 percent made in the framework of a preliminary draft debt sustainability analysis by the IMF on June 26.

The forecasts show Greece is edging closer to Japan's debt-to-GDP ratio, which is the highest in the world. Not only are the countries both archipelagos with storied histories, but they also seem to share a high and growing appetite for debt.
Looking at Greece's debt on a per-capita basis, however, paints a slightly less bleak picture. At the end of 2014 there was more than $35,000 of debt for every Greek citizen, according Eurostat, whereas in Japan it was about $79,000, Bloomberg calculations show. In the U.S., it reached about $56,600, based on data from the Treasury Department. With reference to the European countries, Greek citizens bear a public debt lower than their counterparts in Ireland, Belgium, Italy, Austria, the U.K. and France.

The IMF bent its own rules on debt sustainability in 2010 by approving a bailout of $38 billion for Greece. At the time, it was the biggest loan program in the history of the fund relative to a country's shares in the institution.
 Greece secured a second bailout of $36 billion in 2012. The country owes the IMF $26 billion from the funds it has drawn. The 2012 bailout expires in March.
— With Andrew Mayeda.