This Spanish Ghost Airport May Be Sold for Less Than $11,000
Charles Penty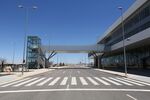 Ciudad Real Airport, a symbol of Spain's economic boom and bust that folded three years ago after luring few users, is set to be purchased by Chinese investment company Tzaneen International -- for just 10,000 euros ($10,850).
Tzaneen was awarded the asset at an auction held by a court in central Spain and plans to turn the so-called ghost airport into a European hub for Chinese companies, it said in an e-mail sent by local public relations firm Estudio de Comunicacion.
Spain granted approval in 2006 for the privately-owned airport with a 4,000-meter (2.5 mile) runway originally named after the famously deluded literary figure Don Quixote. Ciudad Real sought creditor protection in 2009 following the global slump and closed in 2012 after just four years of operation.
Tzaneen said Friday it also aims to buy additional land and invest in buildings and equipment as part of its cargo plan, taking total outlay to between 60 million and 100 million euros.
The airport was originally conceived as a freight base to help move perishable Spanish produce around Europe, as well as an overflow terminal for Madrid, and briefly hosted Ryanair Holdings Plc Flights in 2010.
Other bidders can still try to buy the facility, located in a sparsely populated area 125 miles south of the Spanish capital, if they make an offer of at least 28 million euros, or 70 percent of the airport's estimated value, within 20 working days, Efe newswire reported.

Read this next:
Before it's here, it's on the Bloomberg Terminal.
LEARN MORE