Top GOP Senator Seeks Details on White House Plan for Puerto Rico Crisis
Billy House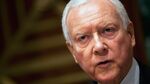 A leading Senate Republican called on Treasury Secretary Jacob J. Lew to outline by July 31 any plans by President Barack Obama's administration to address Puerto Rico's debt crisis.
In a letter Friday to Lew, Senate Finance Committee Chairman Orrin Hatch of Utah said he wants more details on the administration's position on allowing Puerto Rico agencies to file for Chapter 9 bankruptcy.
"I take great interest in this situation and seek additional information regarding the administration's views and plans moving forward," Hatch said in the letter, and then listed specific questions for Lew.
The Obama administration and Congress are under growing pressure to take some action as Puerto Rico, with $72 billion of debt, inches closer to a default. The commonwealth this week said one of its agencies failed to transfer cash to a trustee to cover an Aug. 1 debt payment.
The U.S. Treasury Department said Wednesday that Puerto Ricans shouldn't be left alone to manage the financial difficulties and that Congress should act quickly to advance the Chapter 9 legislation.
So far, a proposal to allow Puerto Rico's government agencies to seek Chapter 9 bankruptcy protection hasn't gained Republican support in either the House or the Senate.
Seeking Support
This week, Democratic Senators Richard Blumenthal of Connecticut and Charles Schumer of New York said they were still working to get bipartisan support for their Puerto Rico bankruptcy bill, a companion to House legislation sponsored by Puerto Rico's non-voting member of Congress, Pedro Pierluisi. House lawmakers said they've been given no signal of a commitment to advance that measure.
Hatch's letter asks Lew to state the administration's position on whether it supports allowing Puerto Rico's government to be treated as a state under Chapter 9, "including retroactive application to already outstanding indebtedness."
The letter also asks whether the administration has "given consideration to appointing a special mediator or arbitrator to work with Puerto Rico and its creditors to establish an orderly resolution of a Puerto Rican default?"
Hatch also pressed Lew in the letter on whether the administration intends to appoint an official to manage any potential federal aid packages to Puerto Rico.