Oldest U.S. Veteran, 110, Meets Obama in Oval Office
Angela Greiling Keane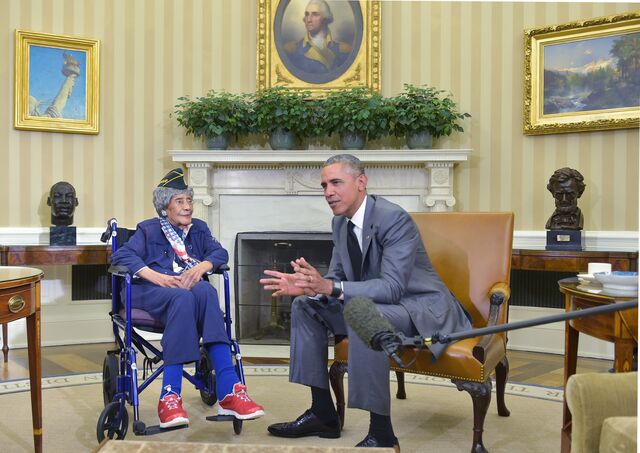 Wearing a VFW cap, an American flag scarf and red sneakers, the woman believed to be the nation's oldest veteran met one of its youngest presidents on Friday.
Emma Didlake of Detroit, 110, met briefly with President Barack Obama, 53, in the Oval Office. She traveled to Washington with Talons Out Honor Flight, a Waterford Township, Michigan-based chapter of a nonprofit group that sponsors one-day trips to the capitol for veterans.
"She served with distinction and honor, and received all sorts of commendations for her service," Obama told reporters after the meeting. "It's a great reminder not only of the sacrifices the Greatest Generation made on our behalf but also the kind of trailblazing that our women veterans made, African American veterans who helped to integrate our Armed Services."
Didlake, who is black, served in the Women's Army Auxiliary Corps during World War Two, according to Talons Out Honor Flight. Traveling with her granddaughter, she planned to visit the World War Two Memorial on Washington's National Mall; the Women in Military Service for America Memorial at Arlington National Cemetery; and the memorial to her favorite president, Franklin D. Roosevelt, the group said in a statement.
Before it's here, it's on the Bloomberg Terminal.
LEARN MORE