Google Deletes Map of German Refugee Camps Amid Spate of Attacks
Stefan Nicola
Google Inc. deleted an anonymous map depicting the location of dozens of refugee centers in Germany amid concern it could make them a target for anti-immigrant attacks and hate crimes.
Google took the action because it violates the Internet search engine's internal rules, it said on Friday. The diagram, entitled "No refugee camp in my neighborhood," displayed red arrows pinpointing the shelters, many of which disclosed specific addresses.
"Whenever content is illegal, we remove it from our products," Lena Heuermann, a spokeswoman for Google in Germany, said in an e-mailed statement. "That's also how we handle content that violates our guidelines and terms of use, which also include inflicting damage or promoting hatred."
The step came a day after an empty shelter preparing to accommodate 67 people fleeing conflict zones was set ablaze in the southern town of Reichertshofen in the state of Bavaria, which police are investigating for possible arson. The map is linked prominently on the homepage of a right-wing extremist group active mainly in southern and eastern Germany.
The number of attacks by right-wing extremists on refugee shelters in Germany tripled to 170 last year, according to a report by the Interior Ministry. Last week, unknown perpetrators attacked a building housing 150 asylum seekers in the state of Saxony. No one was injured.
An influx of refugees, mainly from war-torn Syria, the Kosovo and Albania, is stirring public debate as towns and cities struggle to accommodate the surge. Local authorities are turning empty schools, camping sites and recreational halls into refugee centers, spurring protests and straining budgets.
The number of asylum seekers in Germany may double to 450,000 this year, approaching levels last reached during the conflict that led to the breakup of the former Yugoslavia in the 1990s, according to the Interior Ministry.
Their plight was encapsulated in an encounter this week between Chancellor Angela Merkel and a Palestinian schoolgirl whose family is at risk of deportation after fleeing to Germany from a refugee camp in Lebanon four years ago. The girl, who spoke fluent German, told Merkel that she wants to stay and pursue her dream of studying in Germany.
She burst into tears when the chancellor responded by saying that while conditions for Palestinians in Lebanon are difficult, the country no longer has a civil war and Germany has to make room for refugees from other regions.
A video showing Merkel comforting the girl caused a stir on social media.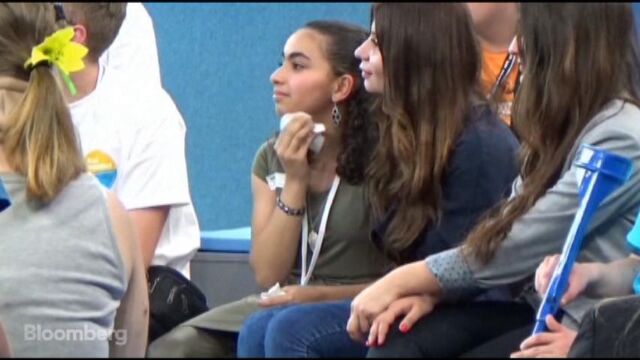 Read this next: