GE Extends Longest Rally Since February on Industrial Forecast
Richard Clough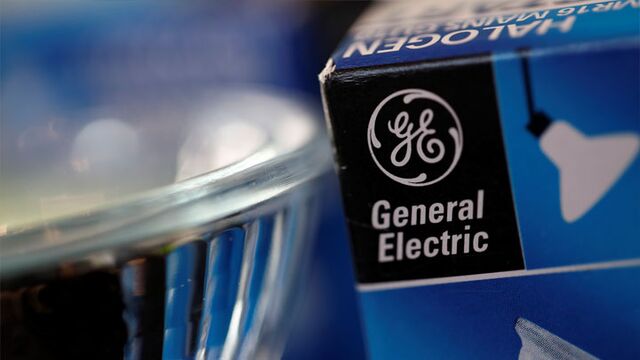 General Electric Co. is getting more bullish about industrial profits, helping drive the longest stock rally in almost five months, as the company speeds efforts to shrink the finance unit.
"We're more confident about how the year is going to play out," Chief Financial Officer Jeff Bornstein said Friday in a telephone interview. "The world is incredibly volatile and all over the map, and the portfolio continues to deliver."
GE raised the low end of its 2015 forecast for profit from manufacturing as second-quarter earnings beat analysts' estimates. Revenue increased in the Power & Water and Aviation divisions, cushioning the blow from slumping oil prices that are weighing on energy sales.
Chief Executive Officer Jeffrey Immelt's push to divest most of GE Capital ties the parent company's fortunes more firmly than ever to products such as locomotives and oilfield equipment. His April 10 plan for $200 billion in GE Capital asset sales is so sweeping that it had, until Friday, largely overshadowed how GE's nonfinancial businesses were faring.
GE's 0.7 percent gain to $27.24 at the close in New York was the seventh straight advance, the longest since a nine-day streak through Feb. 18. The stock's 7.8 percent increase this year topped the 3.3 percent gain for the Standard & Poor's 500 Index.
The new projection for full-year industrial profit is $1.13 to $1.20 a share, up from a range starting at $1.10, GE said.
Sales, Margins
Second-quarter sales climbed 2 percent to $32.8 billion, with industrial revenue of $26.1 billion. Industrial margins, a metric used by investors to gauge the strength of GE's operations, rose 0.7 percentage point to 16.2 percent. Analysts had projected revenue of $28.8 billion.
"We got some better operating performance than we might have thought," said Nicholas Heymann, a William Blair & Co. analyst. "The orders were a bit stronger. The cash flow started out pretty weak for the year and came back strongly."
Adjusted profit of 31 cents a share exceeded analysts' 28-cent average estimate. The figure represents industrial earnings plus what the company calls GE Capital "verticals" -- businesses that will be retained amid the finance selloff. Adjusted profit from continuing operations was $2.8 billion, Fairfield, Connecticut-based GE said. Operating earnings on that basis were 28 cents a share.
Record Backlog
Rising sales of aircraft engines, including the GE9X, and power-generation equipment helped boost GE's companywide backlog 8 percent to a record $272 billion. The orders "position GE to meet our long-term organic growth targets," Immelt said on a conference call with analysts.
GE is aggressively restructuring the oil and gas division to reduce costs, Bornstein said. In the first quarter, GE notified regulators of plans to cut as many as 575 jobs from its Lufkin division, which makes oilfield pumps. Second-quarter segment sales plunged 15 percent.
Since announcing the disposal of $27 billion in real estate assets in April as part of the finance pullback, GE has agreed to another $23 billion of divestitures, including a $12 billion deal to sell most of its U.S. private-equity lending business to Canada Pension Plan Investment Board.
GE expects to complete most of the GE Capital sales by the end of next year, ahead of the plan unveiled in April to wrap up in 2017, Bornstein said. The unit was once so large that it imperiled the parent company during the 2008 financial crisis.
GE is still awaiting approval from European regulators for the 12.4 billion-euro ($13.5 billion) acquisition of Alstom SA's energy business, which was announced in 2014. The company is also working to sell the home-appliances unit to Electrolux AB, and faces a U.S. Justice Department lawsuit to block that $3.3 billion deal on the grounds that it would hurt consumers.
The company expects to go to trial to defend the Electrolux deal next quarter, Bornstein said. GE said it still expects the Alstom and Electrolux transactions to close this year.
Before it's here, it's on the Bloomberg Terminal.
LEARN MORE