Consolidated Edison Turned on by Idea of a Merger to Grow
Harry R. Weber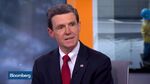 Consolidated Edison Inc. is interested in growing through a merger or acquisition and believes it's attractive to potential suitors because it generates a lot of cash, the company's chief executive officer said.
The owner of New York City's electric utility trades at a discount to the average among its peers. Its current price to earnings ratio is 15.75, below the average of 17.24.
The power company would move forward with a deal if it were to find a partner that shares its culture and if there were benefits in terms of geographic, regulatory and economic diversity, John McAvoy said Friday in an interview at Bloomberg News headquarters in New York.
"We're interested in growth opportunities by pairing with or acquiring others," the CEO said. "We'd like it primarily to be transmission and distribution utilities. That doesn't mean it has to be solely that."
Regarding a possible takeover, McAvoy said, "If we are on somebody's chalkboard or white-board somewhere, I'm not surprised at all."
The CEO declined to say if the company has been approached by a potential suitor or is engaged in active merger talks.
Consolidated Edison shares slid 0.7 percent to $61.30 in New York, down 7.1 percent this year.