Carney Sees BOE Momentum for Rate Increase With Year-End Signal
Jillian Ward and Scott Hamilton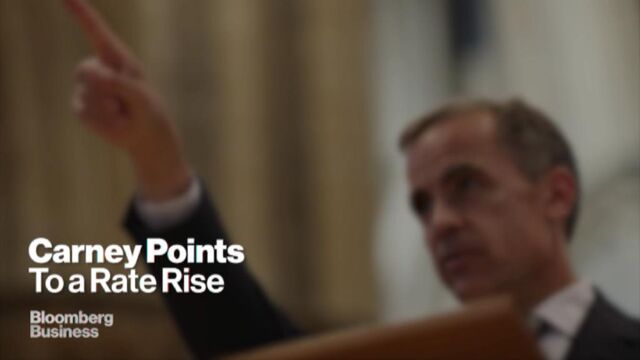 Bank of England Governor Mark Carney said the end of record-low interest rates is in sight and the time for such a move will become much clearer by the end of the year.
"The decision as to when to start such a process of adjustment will likely come into sharper relief around the turn of this year," Carney said in a speech on Thursday in Lincoln, England. "The need for bank rate to rise reflects the momentum in the economy and a gradual firming of underlying inflationary pressures. A firming that will become more apparent as the effects of past commodity price falls drop out of the annual inflation rate around the end of the year."
The remarks come after he and policy maker David Miles said Tuesday that the time is approaching to raise the key interest rate from 0.5 percent, where it's been since March 2009. Both cited improvements in the economy and in the labor market, with the latest data showing wages are rising at the fastest pace in more than five years.
The pound strengthened on Friday for a fifth day against the euro, the currency of Britain's biggest trading partner, after Carney's remarks pointed to a further divergence from European monetary policy. The European Central Bank is carrying out a bond-purchase plan to revive growth.
Sterling rose 0.2 percent to 69.53 per euro, heading for its best week since 2009.
Rate Bets
Before the governor spoke on Thursday, investors saw rates rising in May 2016 at the earliest, according to forward contracts based on the sterling overnight index average, or Sonia. That's a shift from the end of last week, when bets showed the first move would come in August.
Carney reiterated in his speech in Lincoln that it is the Monetary Policy Committee's intention to return U.K. inflation, which fell to zero in June, to its 2 percent target within two years. He said he expects the panel to raise its benchmark interest rate over the next three years.
Rate increases will be more gradual and leave borrowing costs at a lower level than in the past, Carney said. The average pace of a tightening cycle since the BOE adopted an inflation target in 1992 has been about 50 basis points per quarter, with the average level of interest rates in that period about 4.5 percent.
"It would not seem unreasonable to me to expect that once normalization begins, interest-rate increases would proceed slowly and rise to a level in the medium term that is perhaps about half as high as historic averages," he said.
While the governor highlighted risks to the world economic outlook such as the Greek debt crisis and a slowdown in China, he said "we can expect the global economy to proceed at a solid, not spectacular, pace."
"Shocks to the economy could easily adjust the timing and magnitude of interest-rate increases," he said. "The MPC will have to feel its way as it goes."