Carney's Rate Comments Supercharge Pound to Best Week Since 2009
David Goodman and Marianna Aragao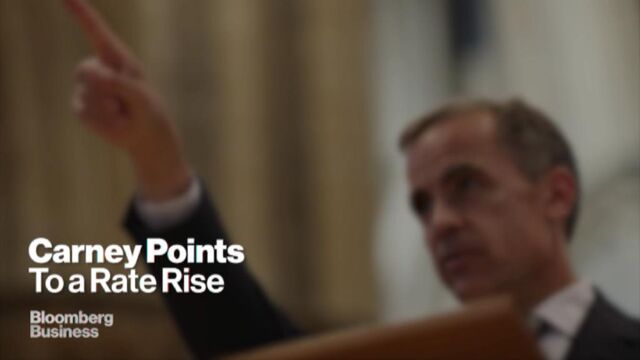 Mark Carney has spent the week preparing U.K. investors for higher interest rates, pushing the pound to its best performance versus the euro in more than six years.
Sterling touched the strongest level since 2007 against the shared currency on Friday after the Bank of England governor said a day earlier that the end of record-low interest rates is in sight and the time for such a move will become much clearer by the end of the year. The remarks came after he and fellow policy maker David Miles said on July 14 that the time was approaching to raise the key interest rate from 0.5 percent, where it's been since March 2009.
"There's been a hawkish shift in rhetoric from the Bank of England over the last week," said Lee Hardman, a currency strategist at Bank of Tokyo-Mitsubishi UFJ Ltd. in London. "The market had been expecting a rate hike later next year. So the market had to adjust a 'break forward' of that expectation for tightening, and that has been a key factor which has helped the pound to outperform this week."
The pound appreciated 0.4 percent to 69.40 pence per euro as of 4:13 p.m. London time and touched 69.37 pence, the strongest since November 2007. It has climbed 3.6 percent this week, the biggest gain since January 2009. Sterling rose 0.2 percent to $1.5635.
'Sharper Relief'
"The decision as to when to start such a process of adjustment will likely come into sharper relief around the turn of this year," Carney said in a speech on Thursday in Lincoln, England. "The need for bank rate to rise reflects the momentum in the economy and a gradual firming of underlying inflationary pressures."
Investors don't foresee an increase until May 2016 at the earliest, according to forward contracts based on the sterling overnight index average, or Sonia. That compares with August as recently as last week. Implied yields on short-sterling futures contracts expiring in March 2016 climbed three basis points, or 0.03 percentage point, to 0.92 percent, up from 0.83 percent at the end of last week.
U.K. government bonds were little changed, with the benchmark 10-year gilt yielding 2.08 percent. The price of the 5 percent bond due in March 2025 was 125.35 percent of face value.
"With rates markets only fully pricing tightening by the second quarter of next year, the comments should keep the pound under appreciation pressure," BNP Paribas SA analysts including Steven Saywell, the London-based global head of foreign-exchange strategy, wrote in a note published on Friday. "Our positioning analysis signals that, while rates markets have become more upbeat on the Bank of England, FX investors do not hold a sizable long-pound position."
A long investment is one that benefits from the asset's appreciation.