Bernie Sanders Says Goldman Wants 'Undue Influence'
In Iowa for first time meeting of all five presidential candidates, the Vermont socialist refuses to attack Hillary Clinton but says he disagrees with her "on a whole lot of issues."
By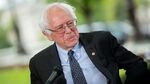 As all five Democratic presidential candidates descended on Cedar Rapids, Iowa to share a stage for the first time, Senator Bernie Sanders cited his rival Hillary Clinton's support from Goldman Sachs as one of the factors that distinguish them.
In the city's Veterans Memorial building where he held a press conference the senator, who is the top-ranking Democrat on the Veterans Affairs committee, talked about care for retired members of the military. But reporters focused on Clinton. 
Asked about the $50,000 Clinton received from Goldman Sachs employees. "Obviously I didn't get any money from Goldman Sachs," said the Vermont socialist, who has been campaigning against the "billionaire class."
"I don't take corporate PAC money, never have, don't want it," Sanders added.
Asked what he thought Goldman Sachs expected to gain by donating to Clinton, Sanders said:  "Obviously what Goldman Sachs wants, what corporate America wants, what the Koch brothers want, is undue influence over the political process."  
Question: should she give the money back? 
"You ask her."
Shortly afterwards, in an interview with Bloomberg outside the hall where Cedar Rapids Democrats are hosting the presidential candidates for a dinner, where each will get to deliver a 15-minute speech, Sanders faulted presidents of both parties for their "heavy reliance on Wall Street" and said heads of investment firms would be barred from a Sanders Cabinet. Asked whether he'd consider a Treasury Secretary like Robert Rubin, who served in the job for President Bill Clinton, Sanders said, "he would be the last person" he would pick. "He was one of the architects of the deregulation of Wall Street," he added. 
At his press conference, Sanders said people are working longer hours for lower wages, and the U.S. has higher levels of childhood poverty and income inequality than in past decades. "One of the reasons has to do with the greed, the recklessness, and the illegal behavior of the people on Wall Street," he said.
The senator noted that he had just co-sponsored support a measure to reinstate the Glass Steagall Act, which kept commercial and investment banks separate and was repealed by a bipartisan vote of Congress and President Bill Clinton.
"Now you'll have to ask Hillary Clinton about her view of whether she thinks we should break up these large financial institutions," he said. "And you'll have to ask for her views about whether we should re-establish Glass Steagall." Earlier this week, Alan Binder, an economist advising her campaign, told reporters that a new Glass Steagall act would not be part of her economic platform.
But at both the press conference and later, Sanders steadfastly refused to attack Clinton personally. "I like her and respect her," he told Bloomberg's Mark Halperin. "We just disagree on a whole lot of issues."