Why Aren't More Women's Groups Fighting to Get Carly Fiorina Into the GOP Debate?
It's a gender-blind approach or an aperture in Republican strategy, depending on where you're standing.
By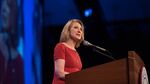 Yes, the presidential election is more than a year out, but how quickly now do we approach the first winnowing. On Aug. 6, 10 Republican candidates will take the stage in Cleveland for the first primary debate of the 2016 election cycle. Fox News, which is hosting the debate with Facebook, says it will determine which 10 candidates will participate based on an average of five as-yet-unspecified national polls.
There is a top tier of candidates we can safely say will be there: former Florida Governor Jeb Bush, for instance, and Wisconsin Governor Scott Walker. But below the handful of front-runners, as Bloomberg's Steven Yaccino wrote last week, many microphones are up for grabs. Single percentage points may decide the fates of contenders such as New Jersey Governor Chris Christie, Louisiana Governor Bobby Jindal, former New York Governor George Pataki, and former Hewlett-Packard CEO Carly Fiorina.
Fiorina is the only woman in the jam-packed GOP presidential field. She has worked at every step of the process to situate herself in direct opposition to Hillary Clinton, the presumptive Democratic nominee and the woman treated practically like a presidential incumbent. Fiorina has found that she can talk to (and about) Clinton as no other Republican can. And yet she may not pass the threshold to get onto the debate stage—which would make the event "all men in dark suits," said Debbie Walsh, director of the Center for American Women and Politics at Rutgers University. Imperfect optics, for a party trying to show how inclusive it is.
Yet little strategizing seems to be taking place that would help ensure a woman's place under the debate-stage lights: a gender-blind approach or an aperture in Republican strategy, depending on where you're standing.
"Everybody's taking a very hands-off approach," said Ann Stone, a longtime GOP political operative and founder of Republicans for Choice, a pro-abortion rights political action committee.
"The Republican Party prides itself on not siding with people for their gender, their race, etcetera—not siloing people." Stone said. "Anything that smacks of quotas, no matter how strongly people feel, we want people to be on the stage for their own merit."
"What purpose does a quota serve in a general election?" she said. "They need to be able to generate their own support."

Read more about the wide Republican field angling for the 10 available spots in the upcoming debates.
Party infrastructure
On the Democratic side, women's groups have become a large and increasingly powerful voice. EMILY's List, a political group committed to electing female Democrats who support abortion rights, has five times as many members today (3 million) as it did in 2008 and twice as many donors, according to the New York Times. 
The Republican landscape is somewhat more scattered. Terri Hauser, political director of the National Federation of Republican Women—a group that was founded in 1938 and boasts a headshot of Fiorina on its homepage—declined to comment, as did spokespeople for Iowa Senator Joni Ernst, Iowa's first female Senate or House member, and Representative Mimi Walters, the sole female Republican member of Congress in California, the state where Fiorina ran for Senate in 2010. Maggie's List, a political action committee that works to elect fiscally conservative women to Congress, did not respond to e-mails.
"One of the reasons that there aren't more elected women on the Republican side is that there hasn't been a strong infrastructure pushing Republican women forward," Walsh said. "That infrastructure exists on the Democratic side and that has made a difference."
EMILY's List press secretary Rachel Thomas sees a deeper problem. "The Republican Party can try to appeal to women voters all they want," she said, "but as long as they prioritize policies that hurt women and families—such as restricting women's access to health care, refusing to support raising the minimum wage, and failing to advocate for stronger equal pay laws—they will continue to have this problem."
Kay Bailey Hutchison, a former Republican senator from Texas, emphasized her party's commitment to women politicians, even as she acknowledged it takes a different tack than the Democrats. 
Fiorina's base "is the same as the Republican base," Hutchinson said. "I think that our women candidates have been very supported by the party. Recruitment of candidates has been very focused on getting women. And when there are strong women the party apparatus is very supportive. That's the way we have worked, and that's how we have increased our numbers. And we have been very supportive of new women that have emerged and encourage them to run."
She added, "I'd say we do it in a different way from EMILY's List."
Fiorina's optimism
Campaign spokeswoman Anna Epstein elided the possibility that Fiorina might not make it to the top 10.
"Carly is confident she'll make the cut for the first debate in August," Epstein said by e-mail. "She is continuing to work hard to meet this goal and introduce herself to voters, whether it's through meeting with Americans across the country or taking numerous questions from the media." Epstein did not respond to questions about advocacy from other groups.
Katie Hughes, a spokeswoman for pro-Fiorina super-PAC CARLY for America, spoke energetically of her group's work to gain endorsements and help elect Fiorina. But she would not specify gender as a superlative reason for considering, or boosting, Fiorina. "Yes, she is a female so that does differentiate her," Hughes said, "but she is a Washington outsider, she's a cancer survivor who lost a child—she has a wide range of experiences in her life to draw from that differentiate her in the field."
'Let Carly debate'
Mallory Quigley, the communications director for Susan B. Anthony List, a group that works to elect anti-abortion women, pointed to a recent op-ed by Marjorie Dannenfelser, the group's president, and Frank Cannon, the head of the American Principles Project, in which they called limiting the number of participating candidates "undoubtedly a mistake." They wrote, "It's true that the large number of candidates presents some challenges, but voters are ill served by debates that include, for example, a national celebrity such as Donald Trump but exclude Carly Fiorina or Lindsey Graham or Rick Santorum." Nothing further.
Only one group I encountered seemed to be working actively to promote Fiorina as a woman: Smart Girl Politics, which was founded in 2008 by Teri Christoph and Staci Mott, "two stay-at-home moms turned activists" who, according to their website, were "disgusted by the poor treatment of Sarah Palin and other conservative women in the public arena."  
Smart Girl Politics launched a petition called "Tell Fox News: Let Carly Debate" that found fault with the eligibility criteria. It reads:
Since poll numbers are notoriously flawed—just ask President Mitt Romney—this is an imprecise way to measure a candidate's performance on the campaign trail.

Carly Fiorina has been impressing audiences (and the media!) on the campaign trail with her forthright manner and passionate approach to campaigning. She is hitting out—and outsmarting—presumptive Democrat nominee Hillary Clinton in a truly impressive manner. She is in a unique position to set the narrative as we head into primary season … and beyond.

Carly Fiorina's voice needs to be heard.

Were the debate to be held today, Carly might not be allowed to participate. And because the GOP field is so crowded, and getting more crowded every day it seems, good candidates like Carly might not have a spot on the debate stage.
Christoph said she put forward this position chiefly because Fiorina, "being the only Republican female in the race, would add a diversity of thought and experience to the debate stage."
"We're not advocating for her merely because she's a woman," she said, then added, "Let's face it, as a woman she can talk to certain issues—and certain candidates—in a way that a man simply cannot."
The petition, which they hope to personally deliver to Fox News, has a couple hundred signatures to date, Christoph said. That's not many, and it's no match for money Fiorina or her supporters could use to buy television ads that might nudge her national poll numbers upward.
Stone acknowledged a tension between her desire to have a female candidate and her party's hesitance to treat women in politics as special, for fear of behavior that might resemble affirmative action. "The male leadership in the party isn't sexist," she stressed. She offered an analogy by way of illustration. "They're so gender-blind they're like the nerds at the party standing in the corner with pocket calculator, they don't know how to ask the girls how to dance. That's how the men in the party are, they don't know how to engage. That's why they try to bring women in the party to try to reach out to women."
(Relative to these "kind of clueless" Republicans, Stone compared Democratic men to "the cool guys who can talk women into anything, if you catch my drift.")
For its part, the Republican National Committee, which sanctioned the debate calendar, says it supports the thresholds set by Fox and CNN, which will hold the second debate on Sept. 16 and similarly use polling to help narrow the stage to 10 candidates. (Both networks will host forums for lower-polling contenders as well.)
"While by law the networks set the criteria, we are very proud that both CNN and FOX will be holding the most inclusive debates in the history of either party," RNC spokeswoman Allison Moore said.